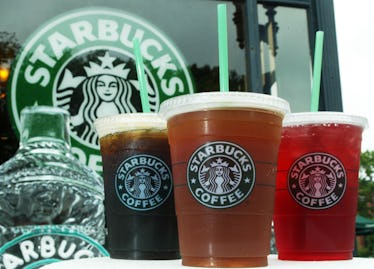 If You're Wondering When Starbucks' Next Happy Hour Is, You Have To Do One Thing
Alex Wong/Getty Images News/Getty Images
OK, let's face it: There's absolutely nothing better than snagging a cheap drink at Starbucks. And in case you haven't heard, discounted beverages are no longer solely based on sporadic Starbucks Rewards deals, because the coffee giant is now offering Happy Hours to any and all Rewards members on a weekly basis. Yes, guys and gals, you heard that correctly: Starbucks is offering Happy Hours, and has been for a few months now. Since you're probably wondering when Starbucks' Happy Hour is happening, be prepared — because I have all the answers.
If you happen to be a human being (and you probably are, since you're reading this), then there's a likely chance that you're interested in life's four most important D's: drinking delicious discounted drinks. If that's the case, then you should probably head to Starbucks for their Happy Hours when they take place. According to a press release, once you get there, you'll be blessed with deals and offers on different drinks every time there's a Happy Hour. Literally, all you'll have to do is show up. Oh, wait... there's one more thing. To get invited to these Happy Hours and find out when they occur, you'll have to become a Rewards member. But don't worry, it's totally a worthwhile commitment. Signing up is quick and free, and no hazing is involved. It might ultimately be the best decision you've ever made.
After you sign up, you'll receive Happy Hour invites through the app that tell you when the Happy Hour is and which drinks are on sale. Whenever there's a Happy Hour, you'll trek to Starbucks — and once you get there, tell the barista you'd like to redeem your Happy Hour discount. Then, you're good to go. Let the deals fall like rain. The best part of it all is that Starbucks Rewards members can also redeem their Happy Hour offers ahead of time. In the words of novelty Myrtle Beach keychains, "It's always happy hour somewhere."
In a press release, Matt Ryan, the executive vice president and chief strategy officer for Starbucks, expressed a ton of excitement for Starbucks' happy hour deals. He explained the chain is currently looking to further engage with its customers, and what better way is there to engage than with a Happy Hour for coffee? I mean, really.
In the release, Ryan said,
With nearly 100 million customers in our stores every week, we're looking for more opportunities to engage directly and personally, providing them with special benefits and offers that are meaningful. This shift in Happy Hour is just one example of how we can further establish, strengthen and develop digital relationships with our customers.
If you seriously cannot wait until the next Happy Hour to get your Starbies fix (and in all honesty, I can't), then do yourself a favor and order one of their newest creations, the Triple Mocha Frappuccino. It's basically a creamier, chocolatier version of the original Mocha Frappuccino, and if you haven't already tried it, I don't know what you're waiting for. Oh, also, it has not one, but two layers of the new Sweet Cold Brew Whipped Cream, which tastes like pure heaven. There's nothing better.
Are you down for cheap drinks, and are you a Starbucks Rewards Member? If you answered "yes" to those two (quite simple) questions, then you're all set to get invited to Starbucks' Happy Hour. If you haven't already gone every time since Happy Hours were announced in March, don't forget — you have to become a Rewards Member in order to find out about them. When you do, you'll end up saving so much money on a weekly basis that you'll be rolling in dough. And you'll also be rolling in caffeine, of course. Don't forget about that sweet, sweet caffeine.