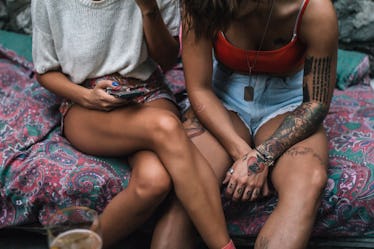 12 Tweets About Sex With Your Ex That Will Hit Close To Home
Should you throw your ex into a lake? Should you have sex with your ex? Post-breakups are hard. With so many emotional changes, it's difficult to clearly navigate the healing process. Although I'm glad I did not have access to Twitter in my angsty tween years, (cringe-worthy rants and drawings of Kurt Cobain are peacefully resting in paper diaries in my parents' basement) I am happy to now live in a time where social media can create the perfect place to vent, rant, and of course, dish about our exes.
That being said, while the internet can create the perfect place for other people to discuss how they handle their post breakup blues, I prefer to read tweets that resonate with me, and share them with my friends. What can I say, post-breakup I'm usually weepy-eyed and contemplating becoming a nun. But I do often consider what it would be like to have sex with an ex — and now I know that I'm not the only one.
After a long stretch of bad dates, or a long stretch of no dates (it me), the desire to reach out to someone who knows you well due to a shared history can be very strong. Here are 12 tweets about sex with an ex that are guaranteed to hit close to home.