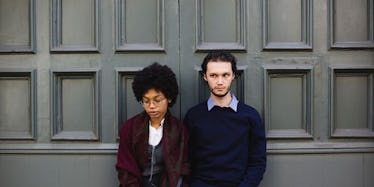 16 Tweets About Fighting With Your Significant Other That Are So Scarily Accurate
If you're going through a rough patch with your significant other, you may want to vent about it on the internet. It's only natural to want to let off some steam, especially if your friends are sick of your back-and-forth texts, calls, and FaceTimes of "My partner is the best" and two hours later "OK they're literally the worst." To cope with your need to vent, you can check out some tweets about fighting with your significant other, because you truly aren't the only one wanting to scream into the void.
I rounded up some tweets people posted complaining about their fights with their boyfriends, girlfriends, partners, and even ex-partners. From peoples' annoyance over their partner's cuteness, to very legitimate issues like dealing with your partner's family's homophobia while in a queer relationship, people just gotta complain about it online. No judgment, I definitely have done the same in the past when in a relationship. It feels good to complain about the annoying things in life, even if it doesn't necessarily solve anything. But you can deal with solving issues and communication later and just vent away from now. Or at least, read other people venting and feel satisfied in that, too.