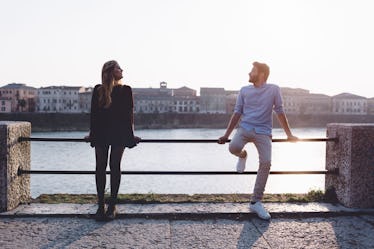 15 Tweets About Bad Dates To Remind You That It Could Be Worse
Going on bad dates is practically a universal experience that everyone will deal with at some point. Well, mostly everyone. If you're one of the few people who hasn't been on a bad date, I'm jealous. Still, most of us understand the agony of a terrible date, and these tweets about bad dates are all you need to remember that you're not alone. Sure, maybe your bad date included one too many racist jokes, or involved a ridiculus amount of stories about their ex. But we've all had our fair share of bad dates, and hearing these stories from real people might help you move on from yours faster.
Whether you went on a bad date with your current partner and it turned out OK, or you were out with a match and it went so terribly you ended up storming out the door, you'll likely relate to at least one of these tweets. Hopefully, no matter where you are in your romantic life right now, you've recovered from that one bad date back in 2014 that ended in regret and a pint of Ben and Jerry's. If enough time has passed that you can properly laugh at what went down without cringing (too much), read on!