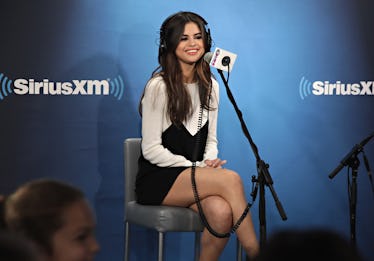 Selena Gomez Dropped The Lyrics For Her New Song "Wolves" & They're So, So Romantic
Cindy Ord/Getty Images Entertainment/Getty Images
Selena Gomez has given us a new song and it sounds like it will be GOLD. Ugh, she honestly can do no wrong when it comes to her latest music. "Wolves" is being released on Oct. 25 and fans are already obsessed. The powerful lyrics have really connected with people, and the collaboration with Marshmello is just an added bonus. Selena Gomez's "Wolves" lyrics are so romantic, you'll for sure want to fall in love ASAP.
Gomez released the lyrics on Oct. 24, before the actual song. While there were a lot of theories floating around about what "Wolves" would be about, it seems that Gomez used her latest track to gush about someone she likes... a lot.
I've been running through the jungle
I've been running with the wolves
to get to you, to get to you
The song sounds super sexy and romantic. Selena recalls being "drunk on a feeling" which I think we can all relate to.
I wanna feel the way that we did that summer night
Drunk on a feeling, alone with the stars in the sky
Needless to say, fans are already obsessed.
The songstress first dropped the news about "Wolves" on Oct. 19. The first post on Twitter featured Gomez and Marshmello sitting on the floor of a super swanky living room with the simple caption, "Selenators, meet the mellogang."
Although, the official news of the collaboration wasn't announced in the first tweet, fans hoped the picture was some kind of foreshadowing. People left tons of comments hoping, asking, pleading, begging for a Selena and Marshmello collab. Obviously, fans got their wish AND SO MUCH MORE.
Before the release of the lyrics, the biggest rumor surrounding "Wolves" was that it would be an intimate look into Gomez's battle with lupus. The caption that accompanied the icy blue cover art Gomez posted on Oct. 23 read, "I've been running through the jungle, I've been crying with the wolves. 10.25."
Whether you know this or not, it's hard to get anything past Selenators. Gomez has been in a battle with the autoimmune disease, Lupus, since 2013. This year, on Sept. 14, Gomez casually dropped the bomb that she underwent a kidney transplant as part of her treatment earlier in the summer.
The post answered fans' questions of why the singer was "laying low" and how her friend, Francia Raisa, was her donor. Gomez said,
I'm very aware some of my fans had noticed I was laying low for part of the summer and questioning why I wasn't promoting my new music, which I was extremely proud of. So I found out I needed to get a kidney transplant due to my Lupus and was recovering. It was what I needed to do for my overall health. I honestly look forward to sharing with you, soon my journey through these past several months as I have always wanted to do with you. Until then I want to publicly thank my family and incredible team of doctors for everything they have done for me prior to and post-surgery. And finally, there aren't words to describe how I can possibly thank my beautiful friend Francia Raisa. She gave me the ultimate gift and sacrifice by donating her kidney to me. I am incredibly blessed. I love you so much sis. Lupus continues to be very misunderstood but progress is being made. For more information regarding Lupus please go to the Lupus Research Alliance website: www.lupusresearch.org/ -by grace through faith
With a giant hurdle like that conquered, this was the first indication that gave fans the idea Gomez would write a song about her struggle with lupus.
The second clue discovered by a fan was the biggest indicator of all — "lupus" in Latin translates to "wolf" in English. WHAAAAT? Yes. This led fans to believe "Wolves" was actually going to be a soulful song about Gomez's battle with Lupus.
As it turns out, "Wolves" is actually romantic AF. Although Gomez may not be ready to bring her battle with lupus into her music, singing about her love life is just fine. Do you, Selena.
Check out the entire Gen Why series and other videos on Facebook and the Bustle app across Apple TV, Roku, and Amazon Fire TV.