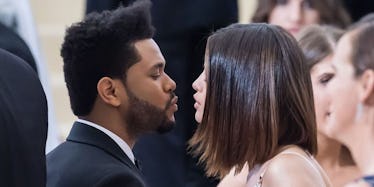 9 Times Selena Gomez And The Weeknd Were The Cutest Couple Ever
Gilbert Carrasquillo/Getty Images
Selena Gomez and The Weeknd are everything we all look for in a relationship. They have deep sexual chemistry, love for each other, and they look perfect together. When musicians date, the music gods high five for a job well done. Get it, you two! These photos of Selena Gomez and The Weeknd prove the superstar couple is a match made in heaven.
The 13 Reasons Why producer and "Fetish" singer sparked dating rumors in January of 2017, when they were spotted PDAing it up outside the Giorgio Baldi restaurant in Santa Monica, California. Since then, they've been spotted canoodling at the Coachella Valley Music and Arts Festival and snuggling up all over Europe. The famous duo made their red carpet debut as a couple at the Met Gala in May of 2017.
Gomez dished about her romance with The Weeknd in an interview with Ryan Seacrest,
Because I've been doing this for so long, I don't feel like there's anything that I would want to … not necessarily hide, but I'm genuinely myself. I think it's really hard when I would want to spend so much time hiding things. It's too much pressure, and I think everyone gets over everything eventually.
Gomez and The Weeknd are better than ever, and these photos prove it!
1. Holding hands in Buenos Aires. Their love is the real, real deal.
Remember when these two were spotted holding hands in Buenos Aires and the world exploded? Selena Gomez and The Weeknd traveling together is just so epic.
2. Selfie by The Weeknd. It's just too sexy.
The Weeknd posted on his Instagram a sexy selfie on April 8, 2017, and it was, well... sexy.
3. Can't keep her hands to herself.
Cuteness overload.
4. When they were spotted smoochin' at Coachella.
Going to a music festival is a huge commitment. Going to a music festival with a new boyfriend? That's something bigger. It's an all day event, and there's a lot of sweat. Gomez and The Weeknd were spotted at Coachella, and it was amazing.
5. A couple that laughs together, stays together.
Gomez and The Weeknd went on a date at the Laugh Factory in Los Angeles. How adorbs is that?
6.The 2017 Met Gala is when the obsession began.
Gomez and the Weeknd made their first appearance at the Met Gala in 2017. A day I'll never forget.
7. The most attractive couple on the planet goes to... Selena and The Weeknd.
8. It's just too much.
Taking selfies with her man. It's legit.
9. They chill at Dave & Buster's together. Enough said.
Photo quality: Poor. Couple quality: Amazing.
All in all, these lovebirds have proven to the world that their love is real. They laugh together, listen to music together, dress up together, even play video games together. Selena and The Weeknd have got it all and we wish them all the best!