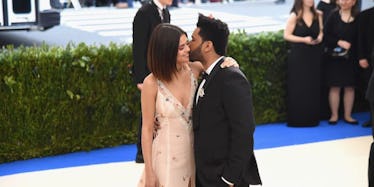 This Pic Of Selena Gomez And The Weeknd's Sweet Comedy Show Date Night Is Too Cute
Nicholas Hunt/Getty Images for Huffington Post
There's nothing like sharing a good belly laugh with the one you love — take it from Hollywood's favorite couple. A photo of Selena Gomez and The Weekend's date night emerged after the two attended a comedy show at The Laugh Factory in Los Angeles, California on Friday, Aug. 11. This sweet snap is definitely bound to inspire your next night out, so get ready to take notes. After all, when a hilarious skit has you fighting back tears and gasping for air, it's pretty much the best recipe for a fun outing with your SO.
The two were seated in the upper mezzanine area and caught on camera by The Laugh Factory, which posted the picture to Instagram with the caption, "Date night at the Laugh Factory with The Weeknd and Selena Gomez." They're all smiles, even though their neighbor in the next seat seems somewhat skeptical of the act.
Performers for the evening included 2 Broke Girls' star Jonathan Kite, Raj Sharma, Max Amini and Chris Redd, and Tacarra Williams, and it seems the lineup hit the happy couple right in the funny bone. Comedian Tacarra Williams even took to Instagram to goof off in a selfie video with Gomez, which was accompanied by the hashtag "#winning #imcuteorwhatever #sheisadorable."
When it comes to her relationship with The Weeknd, Gomez is taking a different approach than she has before.
Rather than cover things up — the way she did her tumultuous on-again-off-again love with Justin Bieber — Gomez has decided to be open and honest. 
"It's really hard when I would want to spend so much time hiding things," Gomez said in a June interview with People. "It's too much pressure, and I think everyone gets over everything eventually… I just want to be happy."
Between sweet Instagram messages and birthday wishes, it seems the two have the whole cute couple thing on lock.