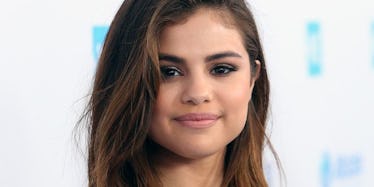 Selena Gomez's Adorable Birthday Instagrams Are All About Her Fans
Getty Images
Selena Gomez was feeling particularly fortunate as she rang in her 25th birthday.
Surrounded by family and friends, teal balloons, and two lovely cakes, the singer and actress focused the celebration on those she loves rather than herself. In a sweet Instagram post, Selena Gomez gave her "people" a shout-out.
"Thank you for all of my bday love. I couldn't be more blessed," the singer wrote. "A lot of you don't realize how much you mean to me. I. Love. You. --think 25 is going to be epic. xo"
Donning sweatpants and a relaxed look, Gomez seemed to achieve total birthday bliss during her intimate gathering.
I know if I were having as many cakes as the "Fetish" singer, I'd certainly be looking for sweatpants, too. Gomez took to Instagram to show off her mint-hued cakes, as beautiful as they surely are delicious.
To spice things up a bit, there was also the option to indulge in the Cheetos Flamin' Hot birthday cake — an impressive dessert, I must say. Again, good thing for those sweatpants, huh?
Treats aside, everyone's messages to the starlet were as heartfelt and sincere as hers.
Some took to Twitter to wish her a happy birthday.
News outlets certainly didn't forget the big day.
And what would a birthday be without a shout-out from Ellen DeGeneres?
In a short video montage, DeGeneres wished Gomez a happy birthday and an enjoyable "Weeknd."
Speaking of The Weeknd, where exactly was Gomez's beau? He didn't appear in her Instagram photos, so we're assuming he was not there for the big day.
However, we can't get too annoyed, since the singer did post this photo on his Instagram story, presumably hinting that he's on his way back to see his lovely lady.
Happy birthday, Selena! We hope your celebration was as lovely as you.