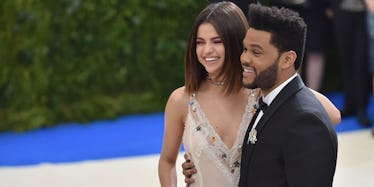 The Weeknd Stalks Selena Gomez's Instagram In The Cutest Way Possible
Getty Images
We see you, Abel. There's no way you can pull a fast one on us — we have eyes in the back of our heads.
The Weeknd (aka Abel Makkonen Tesfaye), tried to low-key stalk his girlfriend Selena Gomez on Instagram over the past two days, but we all saw the likes. There's no such thing as subtlety on social media, so tread lightly, folks.
The "Can't Feel My Face" singer decided to take a peek at his lovely lady's photos... from two years ago. He followed his Insta binge with a few likes.
Most of the time when we like a photo from 2015 on our crush's page, it's straight-up stalking, but when The Weeknd does it, it's just plain adorable. D'aww, young love!
Social media was quick to pick up on The Weeknd's adorably sneaky moves.
You can't really blame The Weeknd for admiring the old-school shots. Nicely done — extra boyfriend brownie points.
This isn't the first time The Weeknd has been a sweet and supportive SO. He took to Instagram to congratulate Gomez on her most recent campaign for Coach in which he refers to her as a "precious little diamond."
If that isn't the best way to say "congratulations," I'm not sure what is.
Though Gomez's previous rocky love affair with Justin Bieber was never without a hitch, she believes it's "too much pressure" to cover up her new love with The Weeknd, according to People.
"It's really hard when I would want to spend so much time hiding things," Gomez said in an interview.
"It's too much pressure, and I think everyone gets over everything eventually… I just want to be happy."
Along with PDA-packed photos and lovey-dovey congratulations on social media, it seems The Weeknd's ex is Bella Hadid is also pretty active on social. She posted quite the cryptic photo on Wednesday with the caption "I'm watching you."
Who exactly are you watching, Ms. Hadid? What's that all about?
Two weeks ago, the 20-year-old model also liked a photo of The Weeknd's.
A note to celebs: Watch your likes, follows, retweets, and comments — there's no hiding!