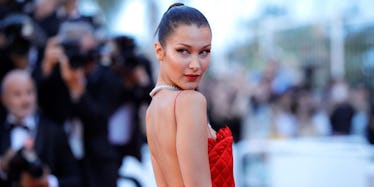 Bella Hadid Posts Cryptic Instagram Pic And Fans Think It Might Be About The Weeknd
Andreas Rentz/Getty Images
Nothing like a good celebrity breakup conspiracy theory to get the fans going. Bella Hadid posted a gorgeous picture of herself on Instagram and fans are jumping to conclusions left and right.
Sharing an intense close-up of her smoldering eyes, Hadid captioned the photo, "I'm watching you" and, of course, people are bursting at the opportunity to guess who she's talking about.
(Cough, her ex boyfriend The Weeknd???, cough.)
The crazy-famous 20-year-old supermodel has been in the limelight with sister Gigi for a while now, and should be no stranger to weird, celebrity gossip and rumors.
Still, this one could be a stretch. Here's the photo.
WATCHING WHO, BELLA?!
Sure, it could just be a witty caption to match a specific photo, but commenters are insistent she must be talking about her ex.
People commented,"Do you mean? @theweekend," "Watching who? @theweeknd," and many people just tagged his name.
One person wrote,
Not sure why Abel left such a beautiful woman... just my personal opinion. Lovely girl.
GREAT POINT. She is lovely.
Still, Hadid has made it clear she isn't looking to stir up any drama.
In fact, not long ago when The Weeknd graced the cover of Forbes, she showed nothing but love. Hadid went so far as to like a photo of Abel on the magazine, though she eventually retracted it, assuming the rumors swirling around her motives were too much.
In a previous interview about her breakup with The Weeknd, Bella said,
It's like I'm finally getting to the point where I can just think about what I want to do and the places I want to go. I want to be as independent as possible and worry about myself rather than anyone else.
Sounds mature to me. I should know. I'M ALMOST A GROWN UP.
Ambiguous photo caption aside, Hadid and The Weeknd seem to be amicable for the most part. The two were total professionals back in the day at the Victoria Secret Fashion Show immediately following their breakup, and both seem to have moved on fairly unscathed.
Ah, to be famous and in love, then out of love, then in love with someone else, etc. etc. etc.