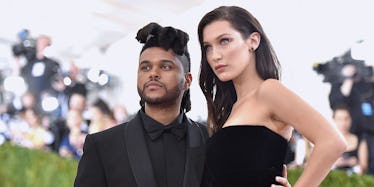 Bella Hadid Liked A Picture Of The Weeknd On Instagram And Fans Couldn't Handle It
Mike Coppola/Getty Images for People.com
Ah, celebrities. They are just like all of the rest of us – casually liking our ex's photos and posts on social media, totally obsessing over that decision, and then deleting it like the awkward crazies we all are deep down inside.
While Bella Hadid no longer follows her ex The Weeknd directly on Instagram, she does follow The Shade Room, an entertainment and celebrity news site, who posted the most recent Forbes cover featuring her ex looking dapper AF.
For a few, glorious moments, Hadid liked the post... and then took it back.
Of course, fans noticed her initial support and offered up a variety of commentary, because what's the internet for if not to share unsolicited, uninformed, and totally biased opinions on other people's lives?
Some followers thought it was sweet and others thought it was sad, meanwhile The Weeknd's latest girlfriend, Selena Gomez, was singing his praises from the high heavens – liking the photo and sharing it to her own Instagram story.
With all of the weirdness of celebrity dating, plus a good dose of being a regular ol' 20-year-old just navigating these things called life and love, it's totally fair to see how Bella could be left feeling a little embarrassed.
BUT! She shouldn't. Seriously.
In fact, it's hard enough to show encouragement and support for an ex, and we think it was big of her in the first place.
Hadid even mentioned in a February interview with Teen Vogue how she will always respect The Weeknd, noting,
I'll always respect him, and I'll always love him. Sometimes you want to be sad about it or handle it differently, but at the end of the day, you never want to burn a bridge that you've fought so hard to build.
Ain't that the truth.
In the meantime, congratulations are in order to The Weeknd, who captioned the Forbes photo "Homeless to Forbes List."
Ah, to be young.