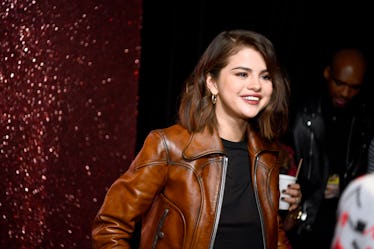 Selena Gomez Is Dropping "Wolves" & It Might Be Her Most Personal Song So Far
Dave Kotinsky/Getty Images Entertainment/Getty Images
WORLD, REJOICE. Selena Gomez is releasing another song, and it's expected to be amazing. This is the singer's third single this year, and she's collaborated with music producer and DJ Marshmello. While it's promising to be a total banger, the meaning of Selena Gomez's "Wolves" could be more personal than you would originally think, according to fans.
Although the song doesn't release until Oct. 25, Twitter has already come up with theories about "Wolves" and how it could be Gomez's most personal song yet. The "Fetish" songstress first dropped the news about her newest single on Oct. 19. The first post on Twitter features Gomez and Marshmello sitting on the floor of a super swanky living room. Marshmello is sitting cross-legged with his iconic white helmet. Gomez is rocking jeans, a black sweater, and bright pink heels with a matching pink Marshmello-inspired helmet. The photo is simply captioned, "Selenators, meet the mellogang."
Although, the official news of the collaboration wasn't announced in the first tweet, fans were hoping the picture was some kind of foreshadowing. People left tons of comments hoping, asking, pleading, begging for a Selena and Marshmello collab.
Luckily, they got their wish. In the second tweet, Gomez announced the name of the song and release date. She paired the news with a picture of her and Marshmello enjoying some popcorn on the couch while she playfully puts a piece of popcorn on his head. Oh, Selena, what a jokester.
Although the tweets came only 10 minutes apart, it felt LIKE THE LONGEST 10 MINUTES EVER.
The most recent post about "Wolves" came on Oct. 23. The icy blue artwork showed Gomez, Marshmello, and a howling wolf. The caption read, "I've been running through the jungle, I've been crying with the wolves. 10.25."
Whether you know this or not, it's hard to get anything past Selenators. Gomez has been in a battle with the autoimmune disease, Lupus, since 2013. This year, on Sept. 14, Gomez casually dropped the bomb that she underwent a kidney transplant as part of her treatment earlier in the summer.
The post answered fans' questions of why the singer was "laying low" and how her friend, Francia Raisa, was her donor. Gomez said,
I'm very aware some of my fans had noticed I was laying low for part of the summer and questioning why I wasn't promoting my new music, which I was extremely proud of. So I found out I needed to get a kidney transplant due to my Lupus and was recovering. It was what I needed to do for my overall health. I honestly look forward to sharing with you, soon my journey through these past several months as I have always wanted to do with you. Until then I want to publicly thank my family and incredible team of doctors for everything they have done for me prior to and post-surgery. And finally, there aren't words to describe how I can possibly thank my beautiful friend Francia Raisa. She gave me the ultimate gift and sacrifice by donating her kidney to me. I am incredibly blessed. I love you so much sis. Lupus continues to be very misunderstood but progress is being made. For more information regarding Lupus please go to the Lupus Research Alliance website: www.lupusresearch.org/ -by grace through faith
With a giant hurdle like that conquered, this was the first indication that gave fans the idea Gomez would write a song about her struggle with lupus.
The second clue discovered by a fan could be the biggest giveaway of all — "lupus" in Latin translates to "wolf" in English. WHAAAAT? Yes. This is leading fans to believe "Wolves" will actually be a very intimate look into Gomez's battle with Lupus.
Since nothing has been confirmed (we don't even have a teaser for crying out loud), we'll just have to wait and see. Gomez seldom disappoints when it comes to new music lately. It's rare for an artist to release three standalone singles in a year without an album announcement, so fingers crossed that will be coming soon, too. Until then, we'll just keep enjoying the music she puts out.
SELENA AND MARSHMELLO, I'M SO READY FOR IT.
Check out the entire Gen Why series and other videos on Facebook and the Bustle app across Apple TV, Roku, and Amazon Fire TV.