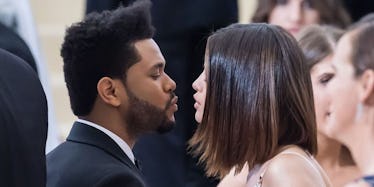 This Adorable Pic Of Selena Gomez And The Weeknd's Date Look Will Make You See Double
Gilbert Carrasquillo/Getty Images
As per usual, one of Hollywood's favorite couples left fans swooning. This time, it didn't take much to muster up all of the lovey dovey feels — just two black jackets. A photo of Selena Gomez and The Weeknd's matching outfits takes #relationshipgoals to new levels and proves a tough but chic look is a perfect date ensemble.
The lovebirds hit New York City on Saturday, Sept. 2 — the first fall-like day in the Big Apple — with black garb that's perfect for the cooler days ahead. Gomez's biker jacket sported a punk rock look that she complimented with a dash of red thanks to (presumably) one of her designer Coach bags. The Weeknd's jacket sported a more casual feel. The two, ironically enough, headed for The Vintage Twin in SoHo, so they had the whole twinning thing on lock.
Since it was one of the first days in New York where you needed a jacket, you gotta hit the downtown streets in style. These two were totally up for the challenge and didn't overdo the whole "it's getting cold" look. Some New Yorkers were walking around in scarves and heavy coats, but we're not quite at that point just yet, folks. This day-date outfit was the perfect in between.
To take their East Coast date up a notch, Gomez and The Weeknd also stopped to peruse a New York City store, but not just any store — the store. You get where I'm going with this. The two were spotted in a pet store, according to Hollywood Life, and that means serious business. As the saying goes, "at the end of the day, it's all about who you want to own a dog with."
Though the two were very clearly missing from this year's VMAs — leaving fans in a tizzy — they deserve a little R&R for themselves. Enjoy the city, you two. Hope you find a super adorable puppy!