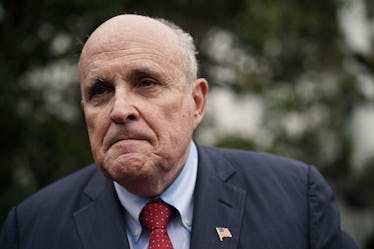 Donald Trump's Lawyer Said Collusion "Isn't A Crime," So That's A New Take On It
Alex Wong/Getty Images News/Getty Images
Just when we thought this Russian election meddling saga couldn't get any more heated, it looks like things have taken a major turn. For months, President Donald Trump has been forcefully denying any possibility of collusion between his campaign and Russia, but according to his lawyer, it wouldn't matter even if the Trump team did collude. Strap in folks, because Rudy Giuliani's comment about Russian collusion is a new take on the sticky situation.
On July 30, Donald Trump's lawyer, Rudy Giuliani, appeared on Fox & Friends to discuss the current political drama that's unfolding within the Trump administration. During their chat, Giuliani ultimately claimed that even if collusion did occur, he found no proof that it would be considered a crime. Oh, OK.
"I have been sitting here looking in the federal code trying to find collusion as a crime," Giuliani said in response to comments about Trump's potential connection to Russian meddling and whether the president could face any criminal liability. "Collusion is not a crime."
In addition to his comments about collusion, Giuliani pushed for Special Counsel Robert Mueller, who's leading the investigation into Russian election meddling and possible collusion, to "put out his reports" in order to prove Donald Trump's innocence and get this ongoing investigation "over with."
"You could investigate an innocent man forever," Giuliani said on Fox & Friends.
At the moment, Donald Trump hasn't formally been accused of or charged with any crime in connection to Russian meddling in the presidential election. However, the special counsel is reportedly investigating whether Donald Trump obstructed justice by criticizing former FBI director James Comey and Attorney General Jeff Sessions on Twitter, and he has reportedly been searching through the president's tweets as possible evidence. So, things may be getting pretty sticky very soon.
It feels like an everyday ritual when we hear Donald Trump claim that there was "no collusion," and the president has repeatedly referred to Mueller's investigation as a "witch hunt." So this suggestion that collusion isn't even a big deal seems like quite a turnaround, particularly because of the way the investigation has been taking off.
Donald Trump may not be in the hot seat quite yet, but a number of members within his administration haven't been as lucky. Multiple Trump campaign officials have been indicted in Mueller's investigation, including Trump's campaign chairman Paul Manafort, who was charged in October 2017 with alleged money laundering and failing to register as a foreign lobbyist prior to joining the Trump campaign, with some alleged crimes dating back to 2006. In a statement to The New York Times, Manafort's lawyer called the charges "ridiculous" and stated that Manafort's foreign lobbying work had ended years before he went to work for the Trump campaign. His trial is set to begin on Sept. 17.
In addition, Trump's lawyer Michael Cohen certainly hasn't had the easiest past few months either. Cohen is currently under criminal investigation in New York for alleged bank fraud and campaign finance violations. Elite Daily reached out to a representative for Cohen for comment on the investigation, but did not immediately hear back. Prosecutors are also reportedly examining the $130,000 payment Cohen arranged for adult film actress Stormy Daniels, legal name Stephanie Clifford, who claims she had an affair with Donald Trump in 2006. Trump has consistently denied any claims of an affair, and although he initially said that he did not know of any payment, Giuliani said in May that the president had reimbursed Cohen for the money. In a Feb. 13 statement, Cohen characterized the payment as a "private transaction" out of his own pocket and said that neither the Trump campaign nor the Trump Organization knew of it. "The payment to Ms. Clifford was lawful, and was not a campaign contribution or a campaign expenditure by anyone," Cohen told The New York Times at the time. Elite Daily reached out to a representative for Cohen for further comment on the payment but did not immediately hear back.
Meanwhile, the investigation is heating up. On July 13, FBI Special Counsel Robert Mueller indicted 12 Russian intelligence officers for allegedly meddling in the 2016 presidential election, bringing the total number of indictments in the investigation up to 35. One would think that Mueller's indictment, as well as the U.S. intelligence agencies confirming that meddling did occur, would change the president's tune. However, while meeting with Russian President Vladimir Putin in Helsinki, Finland on July 16, Donald Trump appeared to side with Putin's claims that Russia did not meddle with the presidential election.
"President Putin just said it's not Russia," Trump stated, "I don't see any reason why it would be."
Following the summit, Trump had to do some serious damage control about his comments, and held a press conference on July 17 to clarify his statements. Well, Trump held true to his prior words by writing in a "no collusion" note about his meeting with Putin as an addition to his prepared statements. Apparently, even if it's not a crime, Trump wants everyone to know that there was "no collusion."
Another day, another development in this ongoing political soap opera. Stay tuned everyone, who knows what Giuliani will say next.