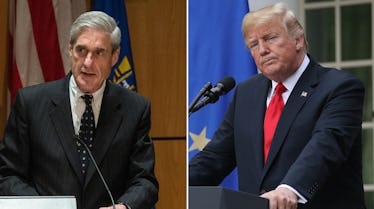 Trump's Tweets Are Reportedly Being Examined By Mueller & The Implications Could Be Huge
Andrew Burton/Getty Images News/Getty Images // Win McNamee/Getty Images News/Getty Images
Apparently the social media posts of President Donald Trump are not exempt from the FBI's investigation, according to a New York Times report from Thursday, July 26. FBI Special Counsel Robert Mueller has already swept up dozens of people as he investigates a host of issues related to the 2016 election. Now, Mueller is reportedly looking at Trump's tweets as he moves forward in his investigation.
Mueller was appointed to carry out an investigation into the Russian interference in the 2016 presidential election following Trump's firing of former FBI Director James Comey in May 2017. In addition to probing for any possible connections or collusion between the Trump campaign and Russia, Mueller is looking into whether Trump's actions around the FBI investigation led by Comey prior to his firing amounted to obstruction of justice.
According to the Times, Mueller is specifically looking at negative tweets from the president pertaining to Comey and Attorney General Jeff Sessions, who recused himself from overseeing Comey's investigation last year due to his own connection with the Trump campaign. The reasoning is that Trump's public posts may reflect an attempt to strong-arm officials into backing down from the investigation, the Times reports. The Department of Justice declined to comment to Elite Daily on the reports.
The implications for Mueller's examinations of these tweets could be serious, given that Trump fired the FBI director and has repeatedly railed against the Russia investigation — and the Mueller probe overall —  on Twitter. And it appears the tweets sent from his personal account may provide key fodder for building an obstruction of justice case, legal experts say.
Jill Wine-Banks, a prosecutor in the Watergate case, told MSNBC Thursday that Trump's tweets would help make a case for obstruction of justice against him. Speaking shortly after the news broke, per The Hill, Wine-Banks said Trump's social media feed "establishes a pattern of behavior and it shows what his intent really is, so it will be very helpful to see that as part of the evidence against the president."
"He's sending a message to all these people, 'Do what I want you to do or else,'" Wine-Banks continued. "He could say that in a one-on-one meeting or he could say it through his Twitter account, both of which amount to obstruction of justice, and he should be held liable."
Another former federal prosecutor, Renato Mariotti, said on Twitter that the news that Mueller would take Trump's tweets into account "makes me even more confident" in a finding of obstruction of justice. Referring to the president's tweets, he added, "They can be used against him and [Mueller] wouldn't be doing his job if he ignored them."
In a statement to the Times, Trump's lawyer Rudy Giuliani said that the tweets were not obstruction of justice. "If you're going to obstruct justice, you do it quietly and secretly, not in public," Giuliani said. Elite Daily reached out to representatives of Trump for further comment, but did not immediately hear back.
Trump has repeatedly taken to Twitter to rally support against the investigation and generally discredit the special counsel. In fact, according to TrumpTwitterArchive.com, a digital database recording Trump's tweets of the last several years, he tweeted about some iteration of "Witch Hunt" 98 times since January 10, 2017 — the same day that the infamous Steele dossier on alleged connections between Russia and Trump was published by BuzzFeed, and just ten days before his inauguration.
Moreover, Trump can't expect to simply get off the hook by downplaying the importance of his social media postings. The president's tweets may be regarded as official statements, according to a statement by then-White House Press Secretary Sean Spicer last year and a judge who was weighing a case on the travel ban.
"Wouldn't it be deliciously ironic if the Twitter presidency was ended by a tweet?" tweeted activist Molly Jong-Fast.
Meanwhile, the man who oversees Mueller, Deputy Attorney General Rod Rosenstein, is under attack by some GOP House members who on Wednesday filed articles for his impeachment. (Rosenstein stepped in when Sessions had recused himself.)
Mueller's investigation, which appears to be broad in its scope, has already resulted in nearly three dozen indictments, many against Russian nationals. On July 13, another dozen Russian nationals were indicted on charges of allegedly hacking key Democratic party entities and other crimes related to interference in the election. Several key players, including former aides to Trump, are cooperating with Mueller.
In addition to Trump's tweets, the Times reports, Mueller is said to be seeking to question current White House Press Secretary Sarah Huckabee Sanders. But as legal experts have weighed in, the fact that the president's tweets are being considered alone may be enough to give the obstruction of justice case teeth.