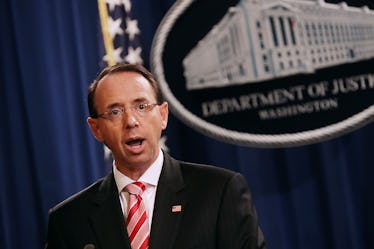 The GOP Filed To Impeach Rod Rosenstein & This Is What To Expect
Chip Somodevilla/Getty Images News/Getty Images
On Wednesday, July 25, a group of Republican lawmakers took a bold step, filing articles of impeachment against Deputy Attorney General Rod J. Rosenstein. It was the latest step taken against the Justice Department official, who has been the target of some Republicans for over a year. Here's why Rod Rosenstein is facing impeachment.
The articles were filed as a resolution by a group of 11 House Republicans, all of whom are members of the conservative Freedom Caucus, including North Carolina Rep. Mark Meadows and Ohio Rep. Jim Jordan. The lawmakers stopped short of pursuing a fast-track process, which would have forced a vote by the entire House within two days.
"I just filed a resolution with @Jim_Jordan and several colleagues to impeach Rod Rosenstein," Meadows tweeted on Wednesday. "The DOJ has continued to hide information from Congress and repeatedly obstructed oversight--even defying multiple Congressional subpoenas. We have had enough."
Rosenstein, a Republican, was appointed deputy attorney general by President Donald Trump in early 2017. He was previously a U.S. attorney appointed by President George W. Bush.
But Rosenstein has since incurred the ire of some fellow Republicans, including Trump — who threatened his firing — and some lawmakers. His beef with many in the GOP began when he appointed Special Counsel Robert Mueller's probe into Russian meddling in the U.S. election, following the firing of former FBI Director James Comey. (Rosenstein took over after Attorney General Jeff Sessions recused himself due to his connections in the Trump campaign.)
Rosenstein's ouster has been threatened numerous times, but this move marks substantive action taken to do so. Whether it will lead to his being removed from his post is a long shot.
As a refresher on how impeachment works: The process begins when House members, after drafting articles of impeachment, file them in the chamber. A majority of members must vote them through (meaning an official has been "impeached"). If this happens, the case moves on to the Senate, which will then hear the case and decide whether crimes were committed. A two-thirds majority here is required for conviction, which removes an official from office.
So if a vote on this resolution goes through, the case will proceed. But that's a big if. Had the House members opted for a privileged resolution, it would've required a vote by the full chamber within two days. But as it stands, the resolution doesn't force a vote. A vote could happen in the next day, Meadows apparently told Fox News, but whether that'll actually happen remains up in the air.
Rep. Adam Schiff, Democrat of California, was one of several major players on Capitol Hill who excoriated their House counterparts for the move. "These articles of impeachment against Rod Rosenstein were filed in bad faith and show extraordinary lengths to which House Republicans will go to protect Trump," Schiff wrote in a Wednesday tweet. "History will record these Members as willing accomplices in the most serious threat to the rule of law in a generation."
But a vote remains unlikely. As Rep. Ted Lieu pointed out, it wasn't clear if the group had the strength in numbers needed to push forward an action like this. "The fact that only 11 House Republicans signed onto the articles of impeachment against Deputy AG Rod Rosenstein speaks volumes," Lieu tweeted. "I don't believe this will ever get a vote."
Those outside the Capitol Hill bubble also weighed in. David Rothkopf, a scholar on international affairs, made it clear that the move by those House members is significant, even if it's unlikely to lead to any substantive action. He called filing the articles "the strongest measure the U.S. Congress has ever taken on behalf of a sitting Russian president."
Legal scholar and Harvard Law Professor Laurence H. Tribe called the move an "egregious abuse of the power to file articles" and said that approving them would "be an affront to our system of checks and balances and the rule of law."
The move, more than being expected to produce a passing vote, is seen as a political test of where Republicans stand before the midterm elections in November. It puts these 11 House members at odds with GOP leadership, which has made it clear that they don't want to bull ahead with the impeachment process or take any action seen as compromising the Mueller investigation.
Whether and when a vote will take place remains unclear. But beginning Friday, Congress goes on recess for a month, so a vote, if it happens, would likely not happen before then.