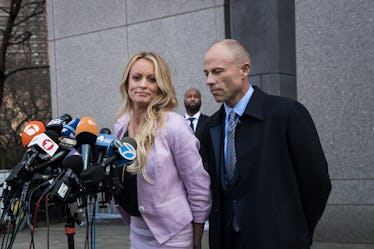 Stormy Daniels' Lawyer Thinks Michael Cohen Will Turn On Trump If Faced With Charges
Drew Angerer/Getty Images News/Getty Images
On Monday, April 16, Michael Cohen, a personal attorney of President Donald Trump, was ordered to appear before a New York court in an initial step to determine the fate of a case involving him, the president, and an adult film star. As the investigations and cases surrounding the president progress, many are asking whether Michael Cohen will turn on Trump. Michael Avenatti, the attorney representing Stormy Daniels in her case against the president, certainly seems to think so.
Cohen, a personal attorney for the president, is also regarded as his personal friend and fixer. It was Cohen who paid Daniels $130,000 out of pocket to allegedly buy her silence in the form of a non-disclosure agreement, preventing her from speaking publicly about an affair she alleges she had with Trump in 2006. Cohen has said this was unrelated to the presidential campaign, and both Trump and the White House have denied allegations of this affair repeatedly. Daniels filed a lawsuit against Trump last month seeking to break her NDA on the ground that Cohen, not Trump himself, signed on his behalf, rendering the agreement invalid.
On Monday, April 9, Cohen's office was raided by the FBI in a sweep to obtain any evidence or documentation of his business dealings related to the president under the investigation into Russian meddling in the 2016 election. Among the topics investigators were apparently seeking information on was his payment to Daniels, which may have constituted a violation of federal campaign finance laws. Elite Daily reached out to Cohen's attorney about the investigation, but did not hear back at time of publication.
So as the cases progress, at question is whether Trump's right-hand man will stay by his side if faced with charges.
In appearances Tuesday, April 17, Avenatti made his opinions clear. When asked on The View whether he thought Michael Cohen would ultimately turn on Trump or maintain his loyalty, Avenatti said, "No, I think there's no question in my mind that Michael Cohen, A) is going to be indicted, within the next three months likely, and B), he's going to roll on the president."
When pressed what he was basing that opinion, Avenatti continued:
Based on my 18 years of experience ... in white collar cases and how they usually play out. Michael Cohen has a family and has kids, I understand that he's a fairly devoted father, and he's not going to look at his wife and say no, I'm gonna go take a bullet for this president and go serve decades ... in a federal penitentiary. Why would he do that? This is a man that, Mr. Trump left him behind when he went to Washington. He hasn't done him any favors.
This is all, of course, subject to if Cohen did anything illegal, which has not been determined in courts. "I think the amount of information that was obtained was significant," Avenatti said on MSNBC's Morning Joe. "There's no question of if Michael Cohen is going to be charged. it's only a question of when." He reiterated that, in his opinion, the likelihood was "slim" that Cohen wouldn't turn his back on Trump.
Avenatti's opinion that Cohen wouldn't remain loyal to Trump is an almost-verbatim contrast to accounts that the lawyer would, in fact, take a bullet for the president. An unnamed source familiar with Cohen told The New York Post's Page Six in an April 15 report that Cohen would "take a bullet for Donald." The source did acknowledge, as Avenatti pointed out, that Cohen was passed up for a gig in the administration and that "he was hurt he wasn't given a job in the White House."
Cohen himself expressed this loyalty to Trump in an interview for a September 2017 article in Vanity Fair. He told the magazine, "I'm the guy who protects the president and the family. I'm the guy who would take a bullet for the president." Cohen also told Vanity Fair he was approached with an offer to write a tell-all book about the Trump clan, but turned down a potential $100-million offer, saying, "There's no amount of money in the world that could get me to disclose anything about them."
Perhaps Cohen can't be bought with money, but as Avenatti suggests, the question is whether a substantial amount of jail time could, though.
Avenatti told reporters this week, per MSNBC, that Cohen's ties — which include to the Trump children — could leave them legally vulnerable, too. "Michael Cohen is radioactive," Avenatti said Monday, "and anybody that was associated with him in the last 20 to 30 years should be very, very concerned."
As investigations and court proceedings close in on Cohen, at issue is whether his vulnerabilities will rub off onto Trump and his family, and if faced with charges, if he'd turn against him.