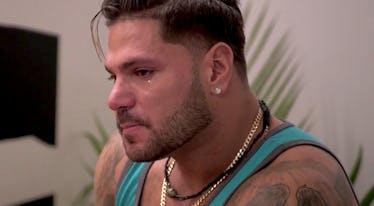 Ronnie Broke Down On 'Jersey Shore' Over Jen Reportedly Threatening To Take His Baby
MTV
For the last four to five months, the question on every Jersey Shore fan's mind has been the same: What is going on with Ronnie and the mother of his child, Jen? The on-again, off-again couple has gotten into blowup after blowup, resulting in extensive tabloid coverage and a number of breakups and possible makeups. But all their drama is still pretty confusing to most fans, which is why we needed Jersey Shore Family Vacation to shed some light on the rollercoaster relationship with its Season 2 premiere. It did not disappoint, as Ronnie broke down on the Jersey Shore Family Vacation premiere, finally revealing the reason why he and Jen have gotten into so many massive fights.
When the Jersey Shore Family Vacation cast reunited in Las Vegas for the second part of their tear through all of America's party cities, the first order of business was to figure out what was going on with Ronnie in the time since they all left Miami. Partway through the first season of Family Vacation airing, Ronnie's girlfriend, Jen Harley, gave birth to the couple's baby, Ariana Sky. Just days afterwards, Ronnie and Jen erupted into a vicious fight on Instagram, which ended in them breaking up. But breaking up didn't cause things to die down between the turbulent co-parents: a couple months later, Jen was arrested on charges of domestic battery after allegedly dragging Ronnie off the side of her car. Elite Daily reached out to Ronnie's team for comment on the allegations but did not hear back by the time of publication. After that fiasco, Ronnie and Jen are still spending time together, even fueling rumors that they got back together after posting a kissy-faced photo together on the Fourth of July.
So what is really going on with Ronnie and Jen? The Jersey Shore Family Vacation: Part 2 premiere on Thursday night actually took us inside the relationship, and it sounds just as upsetting as we all thought.
First, we briefly get to hear Jen's side of the story, thanks to a newfound, semi-secret friendship that she formed with JWoww. Jen tells JWoww that she no longer trusts Ronnie after watching the first season of Family Vacation, which included a pretty damning episode in which it is heavily implied that Ronnie cheated on Jen while she was at home pregnant. Elite Daily previously reached out to Ronnie's team about the episode but did not hear back by the time of publication. Now that the cast is in Jen's hometown of Las Vegas, though, she says that she is going to keep closer tabs on Ronnie, and JWoww offers to keep an eye on him as well.
Then, at the very end of the premiere, Ronnie explains his side of things. Through tears, he claims that Jen has repeatedly threatened to run off with Ariana Sky, barring Ronnie from seeing his baby. He says those threats are why he has been so on-edge and lashed out in previous months and throughout the premiere episodes. Obviously, the show frames the situation so that viewers are meant to feel more for its star, Ronnie, rather than Jen, but both sides have their validity: Jen had to watch her boyfriend possibly cheat on her on national television while she was carrying his baby, which is supremely sucky, but it would also suck to live in constant fear of never seeing your child again.
The Jersey Shore Family Vacation: Part 2 premiere has only scratched the surface of the Ronnie/Jen drama, so fans can expect a whole lot more fireworks in weeks to come.