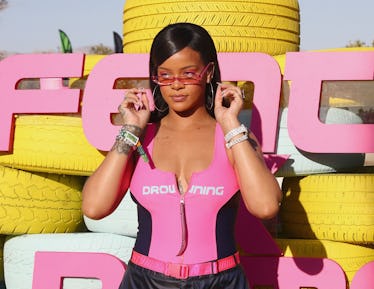 Rihanna Posted A Makeup-Free Selfie With Stubbly Legs & She's My Body-Positive Queen
Joe Scarnici/Getty Images Entertainment/Getty Images
If you can think of someone cooler and more down-to-earth than Rihanna, by all means, give it a shot. The superstar singer is a business woman, fashion icon of epic proportions, and of course, a beloved performer who proves time and time again that just doing you, like really hard, is always the best way to live life. And in this day and age, we're often bombarded with perfect Instagram selfie after perfect Instagram selfie from our favorite celebrities. But our girl Rihanna posted a make-up free Instagram the other day, with ever-so-slightly stubbly legs to boot, while she was just hanging in and enjoying the summer sun, and her fans were, of course, totally here for it.
Yes, on Wednesday, May 2, the "Diamonds" singer shared some lovely shots of herself on Instagram on a beautifully bright day, boasting a totally naked, natural face while she was clearly just happy to be relaxing in the almost-summer sunshine. Rihanna also shared a more close-up shot of her booty in this Instagram post, in which fans thought they saw her all-natural stretch marks (or "tiger stripes," as one Instagram user called them), but Rihanna pointed out in the comments that, in this case, those were actually just rays of sunshine.
Plus, the "Work" singer actually admitted in response to the confusion, "I got stretch marks but dats the sun," which kind of just makes me love her even more, for reasons I don't even fully understand. Rihanna, you're just perfect.
Stretch marks or not, though, fans went totally wild over the fact that Rihanna showed herself in a totally vulnerable, relaxed moment, captioning her post "when u can't wait for summer." One Instagram user gushed, with multiple heart-eye emojis of course, over RiRi's "natural beauty," while another shared, "I love when celebrities just go natural and show people the real life behind makeup and cameras." Same, girl. I live for this sh*t.
And this is not, by any means, the first time Rihanna has been a proponent for self-love, personal style, and body positivity. Unfortunately, RiRi's been the target of annoying internet trolls in the past, but the reason why I love her so much is because when she responds to these trolls, it's always with humor and a solid point.
For instance, in the fall of 2017, after a number of Twitter users started making some particularly rude comments about how "thick" Rihanna's body had become, the "Umbrella" singer posted a clapback to end all clapbacks.
This Gucci Mane meme was basically Rihanna's way of saying that, not only do men not receive the same scrutiny over their bodies as women, it also just doesn't matter what size a person is in the first place.
Look, the fact that no one — literally no one — can keep Rihanna from being 100 percent Rihanna, a woman who loves the crap out of herself no matter what anyone says, is ultimately what makes her such a freaking queen. This body-positive message is one she shares and embeds in all the work she does, even as a businesswoman. In a recent interview with Vogue, the singer spoke about her upcoming line of lingerie, called Savage X Fenty, which is refreshingly modeled by women of all different shapes and sizes. Rihanna told Vogue,
I accept all of the bodies. I'm not built like a Victoria's Secret girl, and I still feel very beautiful and confident in my lingerie.
RiRi made a similar body-positive statement with her makeup line, Fenty Beauty, which includes 40 different foundation shades, catering to as many skin tones as the "Stay" singer and her team can possibly manage in their formulas. Rihanna said in her Vogue interview,
As a black woman, I could not live with myself if I didn't [create all these different shades].
But what I didn't anticipate was the way people would get emotional about finding their complexion on the shelf, that this would be a groundbreaking moment.
Honestly, RiRi, everything you do is a groundbreaking moment for the rest of us. Keep being your true, beautiful self.