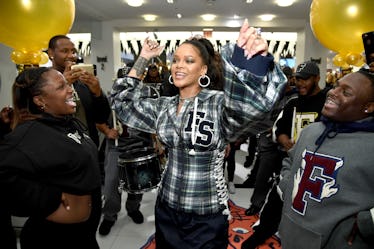 Rihanna Talks Having A "Fluctuating" Body & How Praying Helps Her Stay Grounded
Dimitrios Kambouris/Getty Images Entertainment/Getty Images
As a woman who's constantly shown images of other women -- on subway ads, on social media videos, etc. -- I can't express how refreshing it is to see someone who finally looks like me represented in the mainstream media. But being different often doesn't come without attention — and it's not always good. Considering all the major accomplishments Rihanna has racked up over the last few years (um, hello Fenty Beauty!), you'd think fans could find something else to discuss besides her weight. But a few months ago, Rihanna's body became a hot topic of conversation, as fans began posting various photos of her on Twitter and social media, saying the Grammy award wining artist got "thick," a term of endearment used by many men and women, most notably in Latina and black communities.
Not long after, the memes started. Internet trolls became obsessed with talking about Rihanna's body, commenting on Rihanna's reported weight gain in a negative way. Insensitive headlines like, "Is Rihanna Going To Make Being Fat The Hot New Trend?" popped up everywhere, as if to suggest that varying forms of body sizes were somehow less attractive than others. (And to those people I'd say, uh, excuse me, aren't there some Fenty YouTube tutorials y'all need to be studying? Twitter fingers never did anyone good, and you'd be best to leave Rihanna alone.)
However, in true RiRi fashion, her clapback on the discussion has been nothing short of brilliant, as she once again proves she DGAF what you or I or anyone thinks.
In a recent interview with The Cut, Rihanna offered up some fashion and beauty advice (thank you, gods), and opened up about having a "fluctuating body type," and what that actually means to her.
The "Wild Thoughts" singer told The Cut,
Well, I actually have had the pleasure of a fluctuating body type, where one day I can literally fit into something that is bodycon, and then the next day — the next week — I need something oversized; I need a little crop here and a high-waist there to hide that part, you know?
OK, so Rihanna says she has a fluctuating body type, and there are some days I literally can't stand the idea of a crop top (period days, Tuesdays, workdays...), so does that make me exactly like Rihanna? Let's go with yes.
She continued,
I really pay attention every day when I go into the closet about what's working for my body that morning. I feel like that's how everyone should go after fashion, because it's an individual thing. And then, if you take it further, it's like: What week are you having? You having a skinny week? You having a fat week? Are we doing arms this week? We doing legs this week? We doing oversized?
Of course Rihanna's comments haven't ended the body image conversation and righted society's skewed perspective of female bodies as a whole, but her advice is actually relatable AF if you stop and think about it.
If you aren't particularly feelin' yourself one morning, that's OK! We don't have to constantly love every inch of our bodies every day. Rihanna's approach is all about being rih-alistic. (See what I did there?) If you're not feeling your legs, showcase your arms and be done with it. No need to spend all day harping on just one piece of yourself when there's so much more you have to offer.
Rihanna also got real about social media trends in general — even if she is the focus of a lot of them. She said, "Instagram is the death of all trends. Once it gets there, it's too late. It's gone." OK, does that mean it's not cool to Instagram a photo of my furry Fenty x Puma slides? OK, fine, the queen has spoken.
She also touched on what keeps her sane in the midst of such an insane time period/political climate right now. She told The Cut,
I pray a lot. A lot. And I try to just look at every situation like there's some reason behind it. Even if I can't feel it in that moment, I just thank God anyway, because I know that there's something better coming, and he's doing it for my good.
But Rihanna, is it OK if we continue to pray to you?
All hail the queen, for she comes bearing truths.