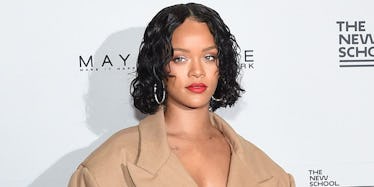 Rihanna Had The Perfect Response To Internet Trolls Who Body-Shamed Her
Jamie McCarthy/Getty Images
How many times does Rihanna have to say she's a savage before people start to get it?
Last week, Barstool Sports — a site that has unfortunately made a practice out of objectifying women in its "Girls" section where most of the articles solely contain pictures of women they've decided are hot — believed it was their right to decide how Rihanna should feel about her own body.
Blogger Chris Spagnuolo tweeted, "Is Rihanna going to make being fat the hot new trend?" There was also an article of the same name, but it has since been deleted.
Some of the lines from the blog post — originally posted on May 30 before being removed later that day — included comparing Rihanna's and other women's bodies to the Hindenburg, saying she's been "enjoying that good room service a bit too long," and that she's "pushing 180," as if weighing 180 pounds was a bad thing or, more importantly, any of his goddamn business.
Obviously, the internet wasn't cool with it at all.
Dave Portney, Barstool's founder, issued a statement saying, "[Spagnuolo] should not be writing blogs that we as a company end up having to defend." Notably, there was no legitimate apology to Rihanna in the statement.
Rihanna didn't respond to the whole situation last week, and she didn't need to. But then, on June 5, she seemed to respond in the most Rihanna way possible: with a dank-a** meme.
The meme says, "If you can't handle me at my 2007 Gucci Mane, you don't deserve me at my 2017 Gucci Mane." She captioned it with only a crying face emoji, which seems to imply she's only pretending to care about what Spagnuolo's post said. And that was that!
End of controversy. Rihanna has spoken, and she doesn't give a f*ck about body shamers. God, I love this woman.
Let's take some time to note another important takeaway from this entire "Rihanna getting thick" internet craze, though. My co-worker, Marquaysa Battle, said it perfectly when she said,
Neither side of the body type conversation truly empowers women. Pressuring women to be smaller or thicker, and then obsessing over either, perpetuates the idea that a woman's value lies in her body and little else.
So whether you're praising or ridiculing Rihanna's figure, neither of those actions does her a service.
Just let her live her own damn life in her own damn body, and you do the same.
Citations: Rihanna Served Up a Perfect Clapback to Body Shamers (Cosmopolitan)