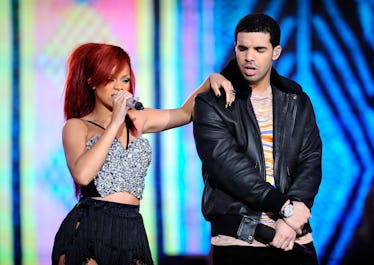 Rihanna Just Got Real About Where Things Stand With Drake & Yikes
Kevork Djansezian/Getty Images Entertainment/Getty Images
You were there. I was there. Everybody was there when Drake presented BadGalRiRi with the Michael Jackson Video Vanguard Award at the 2016 Video Music Awards. He said a lot of genuinely nice things, then seemed to go off script and profess his undying love for Rihanna. Since then, fans have always wondered what's up with these two. Are Rihanna and Drake friends? Lovers? Colleagues? According to a new interview RiRi just did with Vogue, it looks like none of the above. Ouch.
The year was 2016, and Drake and Rihanna's hit track "Work" was taking over the world and getting stuck in everyone's head day in and day out. Drake was tasked with presenting Rihanna with the Vanguard Award, which actually made sense. They were close friends at the time and legit all over each other in the "Work" music video. If there was ever a time for them to announce they were secretly in love, this was it.
His speech took over four minutes, in which he covered everything from his first time meeting Rihanna to poking fun at her courageous fashion sense. Then, at the very end, he made sure she and everyone knew he was straight up in love with her. After already calling her "the most beautiful, talented woman" he's ever seen, Drake added,
She's someone... she's someone I've been in love with since I was 22 years old, she's one of my best friends in the world. All my adult life, I've looked up to her even though she's younger than me. She's a living, breathing legend in our industry.
Then, to thicken the plot even more, he tried to kiss her. Rihanna very intentionally dodged her head and everyone was like, "Ohhh!" and "Wowww!" and "Ahhh!" about it.
You can catch the whole speech in the video below, or speed up to 3:20.
Two years later and Rihanna is now saying she, well, actually kind of hated his speech. For her, Drake's proclamation sounded less like fireworks and more like a big record scratch.
She confessed to Vogue,
The VMAs is such a fan-focused awards show, so having that energy around me, and knowing the people who had received the award in the past, made it feel like a big deal. Waiting through that speech was probably the most uncomfortable part. I don't like too many compliments; I don't like to be put on blast.
When asked directly about her current relationship with Drake, Rihanna said, "We don't have a friendship now, but we're not enemies either. It is what it is."
Wow, wow, wow. Drake, hang in there buddy.
The truth is, Rihanna is seeing somebody, but it's not Champagne Papi. She didn't mention any names, but fans know she's been seen with the successful Saudi businessman Hassan Jameel. RiRi says she's working on not feeling guilty about enjoying her personal time away from work and trying to enjoy life as it comes. She explained,
I used to feel guilty about taking personal time, but I also think I never met someone who was worth it before. Even mentally, just to be away from my phone, to be in the moment, that has been key for my growth. Now, when I come to work, I'm all in. Because before you know it, the years will go by. I'm glad I'm taking the time. I'm happy.
Let's all take a moment of silence for the Drake-Rihanna relationship that never was. R.I.P.
Check out the entire Gen Why series and other videos on Facebook and the Bustle app across Apple TV, Roku, and Amazon Fire TV.