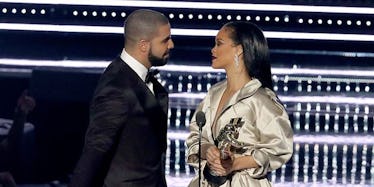 TBT To The Time Drake & Rihanna Completely Slayed The 2016 VMAs
Kevin Kane/Getty Contributor
It's VMA season once again, which means it's time to treat yourself to reliving the glory that was Drake and Rihanna at the 2016 VMAs. Drake has always worn his heart on his sleeve; it's what we love about him and it's what makes him Drake. Yes, sometimes it means he's the butt of everyone's sad boy jokes, but sometimes being honest about your feelings pays off.
That was the risk Drake took when presenting Rihanna with the Michael Jackson Video Vanguard Award last year -- jumping in the deep end with one of the sweetest, most humble declarations of love to grace the small screen since Rachel got off the plane in the finale of Friends. Let's reminisce.
Drake starts his speech by telling the story of how he and Rihanna first met back in 2005. He was playing background music at an Italian restaurant in Toronto. She was there shooting her first music video. He was 18. She was 17. He's looked up to her ever since. It sounds like a story one might tell at a wedding reception. "This is the tale of how Aubrey met Robyn." The guests sniffle and cheer.
Of course, this wasn't a wedding reception, it was the VMAs, but that didn't stop the audience from sniffling and cheering anyway. He went on to praise the Barbadian icon, saying she was "already at a place where most artists only dream of going" and at "an untouchable level." Rihanna blushes and smiles in the corner.
At this point, the whole audience is in the palm of Drake's lovesick hand. Book the venue! Call the caterer! Wait, where's the ring? He's getting there. Mid-speech, and after a deep breath he declares, "She's someone I've been in love with since I was 22 years old." The crowd goes wild, and Rihanna, ever the coolest, gives him a look of impressed surprise and then dabs as if to say "thank you."
Fellas, take notes, because this grand gesture actually worked. After the ceremony, Drake and Rih Rih were finally spit out of the rumor mill and into the lime light when they arrived at a VMA after party hand-in-hand. A few weeks later Rihanna visited Drake at his concert, and joined him on stage for a duet and a smooch. It was love.
They dated for a few months before calling it off , claiming that the timing just wasn't right. It's sad, but no reason to give up hope. Now that everything's on the table, the future seems wide open for the couple hip hop dreams are made of.
Drake isn't scheduled to be at this Sunday's ceremony, and we're not sure if Rihanna, who is nominated only for her collaboration "Wild Thoughts" with DJ Khaled, will be either, but plenty of other young, loved-up couples probably will make a showing.
It would be heartwarming to see Liam Hemsworth propose to Miley Cyrus on the red carpet or maybe hear The Weeknd riff about his love for Selena Gomez, but let's be honest, nothing will ever really measure up. Drake and Rihanna are just on another level -- they're pop royalty -- and after the stunt they pulled last year, we can't be blamed for being underwhelmed by just about everything else.