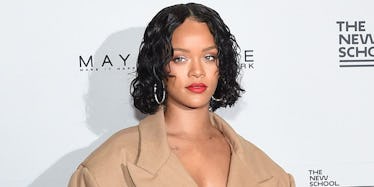 A Look Back At The Winners Of The MTV VMAs Video Vanguard Award
Jamie McCarthy/Getty Images
The MTV VMAs Video Vanguard Award is one moonman that is reserved for legends only. It's named after Michael Jackson and has been given to the likes of Britney Spears and Madonna. All other moonmen are silver. This one is gold. At the very first VMAs in 1984, the MTV VMAs Vanguard Award was presented to both the Beatles and David Bowie, and no bar set that ridiculously high should be sustainable. But lucky for us – and MTV – 23 years later, ground-shaking, history-altering, vanguard artists keep cropping up and keep making music videos.
Whoever takes it home this year has some big shoes to fill.
Michael Jackson won the award in 1988, for basically inventing the music video with 1983's "Thriller." "Thriller" was the first video to not just be a promotional tool, but a work of art in itself. It came out on a Friday night. People stayed in to watch. Nothing was the same.
This award honors artists whose dominance allows them to bend the universe in their favor.
Beyoncé (winner, 2014) inspired the VMAs to bring back "Breakthrough Longform Video" in 2016 just to give it to her. The music imagery of Britney Spears (winner, 2011) is so ingrained that she is still the only school girl, only flight attendant, only Martian that matters.
When Kanye West won in 2015, he used his speech to proclaim himself a 2020 presidential candidate, a declaration he has had two years to take back as a joke – and hasn't.
Rihanna is the award's most recent recipient. She's had 11 Billboard number 1s in as many years and more combined views on YouTube than there are people on earth -- and she's only 29 years old.
Like I said, legends only. So, which artist's trophy case will be graced by a very special lunar landing this year?
We don't know yet. In terms of evergreen icons, I'd be surprised if Lady Gaga and Taylor Swift don't both take home the prize eventually. But, they're still young and there's plenty of time to keep adding to their legacies.