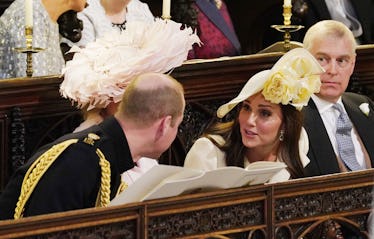 William & Kate's Behavior At The Royal Wedding Reception Is Shocking & I Wish I Was There
WPA Pool/Getty Images Entertainment/Getty Images
KEEP THE ROYAL WEDDING DETAILS COMING, PEOPLE. The latest tidbit involves Prince William and Kate Middleton's royal wedding reception behavior and I am loving it. Just when you think you know a couple as a pristine, poised, duo, you find out they actually let loose at the largest royal event for years to come. According to some sources, Prince William and Kate Middleton, Duke and Duchess of Cambridge, might have had the time of their lives at their siblings' reception, especially because the attention was finally not on them.
The world watched in wonder on Saturday, May 19 when Prince Harry and Meghan Markle, Duke and Duchess of Sussex, said their "I dos." Their big day came less than a month after Prince William and Kate welcomed their third child to the palace, Louis Arthur Charles, and everyone wondered what kind of state they might be in. Based on an eyewitness, Kate and Prince William were having a grand ol' time. According to an insider, they truly enjoyed themselves at the ceremony afterparty. One wedding guest told People magazine, "William was in a jokey, wonderful mood at the party. He must have been relieved that it wasn't all about him."
Despite having just pushed another human being out of her body, the source said Kate was also in high spirits. She and Prince William were thrilled with their children's participation in the wedding ceremony and stoked the whole family got to be a part of the epic event. Princess Charlotte served as a bridesmaid and Prince George was a page boy. (Fun fact, this was also the first time Prince George wore pants instead of shorts, which apparently is a big deal in royal culture. Who knew?)
The royal insider explained, "[Kate] was [in] great form. She and William were saying how thrilled they were to have their children there taking part."
The truth is, it sounds like even if Kate and William sat in a corner and said nothing at all, the reception was still the place to be. Royal expert Katie Nicholl talked with Entertainment Tonight about some of the reception happenings, including a touching and non-traditional speech from the bride herself. Nicholl said,
The first person to get up and speak was Meghan. This was a real breach of tradition. Usually, the bride doesn't talk. It is, of course, the father of the bride, but seeing there was no Thomas Markle, Meghan decided that she would speak.
According to Nicholl, it was important to Meghan to thank the royal family personally. She said the Duchess is "an outspoken, self-proclaimed feminist and I was told she wanted to have the chance to say in person a very big thank you to the royal family, which is exactly what she did."
The public was also wondering how Meghan was feeling considering her father, Thomas Markle, made the decision to not attend the wedding very last minute and under bizarre circumstances. According to Nicholl, Meghan focused on her love for Prince Harry and her appreciation towards her mother, Doria Ragland, who was in attendance. Nicholl explained, "When it came to her new husband, Harry, she said, 'I finally found my prince.' It was very romantic and very sweet," adding, "I do know that she thanked her mother, not just for being there today, but for being there for her entire life."
And as for the partying Prince William? It sounds like he knocked his best man speech out of the park. Nicholls told ET:
William managed as best man to get the right tone between the right thing to say about his brother, while giving him a good ribbing. So, no speech about Prince Harry is complete without teasing him mercilessly about his hair. Prince William pointed out that Prince Harry wasn't far behind him when it came to going bald.
Well, it sounds like the party of a lifetime. Prince William better get it in while he can because one day he'll probably be king and then that will be, like, a whole new thing, guys. How exhausting.
Check out the entire Gen Why series and other videos on Facebook and the Bustle app across Apple TV, Roku, and Amazon Fire TV.