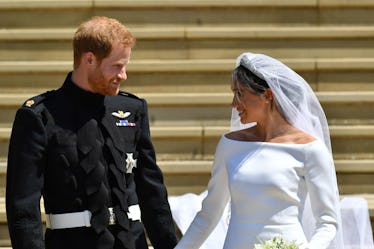 Meghan Markle Said The Most Romantic Thing About Prince Harry In Her Wedding Speech & Aww
Ben Birchall - WPA Pool/Getty Images
The whole world is still in awe over the Royal wedding. From all the celebrity attendees to Meghan Markle, Duchess of Sussex's incredible dress, the Royal wedding was definitely an affair to remember. But one thing the public wasn't privy to was the royal reception where Meghan, Prince Harry, and others made some heartfelt speeches. According to a new report, Meghan Markle's wedding speech, in particular, was super romantic and full of emotion.
In an exclusive interview with Entertainment Tonight, royal expert Katie Nicholl provided all the details of the reception. Apparently, Meghan was the very first to make a speech:
The first person to get up and speak was Meghan. This was a real breach of tradition. Usually, the bride doesn't talk. It is, of course, the father of the bride, but seeing there was no Thomas Markle, Meghan decided that she would speak.
As Nicholl mentioned, it's not customary for the bride to make a speech after a royal wedding. Typically, the royal family follows traditional wedding protocol, which calls for the groom, the best man, and the host (Prince Charles, in this case) to make toasts. So, once again, Meghan seized the moment and made history.
Sounds about right, though. Meghan has never been one to keep quiet about things that are important to her, so it makes complete sense that she wouldn't shy away from making a speech.
Nicholl made note of Meghan's outspokenness in her interview with ET:
She is an outspoken, self-proclaimed feminist and I was told she wanted to have the chance to say in person a very big thank you to the royal family, which is exactly what she did.
So, what exactly did Meghan say? There aren't any exact quotes available, but Nicholl explained that Meghan was in total romance mode, even calling her new husband her "prince":
When it came to her new husband, Harry, she said, 'I finally found my prince.' It was very romantic and very sweet.
Markle also thanked her mother, Doria Ragland, who is reported to be incredibly important to her:
I do know that she thanked her mother, not just for being there today, but for being there for her entire life.
So sweet! There's been no official word about whether Meghan mentioned her father, Thomas Markle.
To match Meghan's beautiful sentiments, Prince Harry also gave an emotional speech during the reception. Nicholl explained that Harry paid tribute to his mother, as well as Meghan's mother:
Harry gave a tearful speech paying tribute to his own mother Princess Diana missing from the festivities. He also thanked Meghan's mother Doria Ragland for giving him permission to marry Meghan. He talked about how they made a great team.
Wow, both the bride and groom really know how to give an emotional speech! How can you not love them together?
That's not all that happened, though. Apparently, Prince William also raised a glass to the new husband and wife! Here's what Nicholl had to say about Prince William's speech:
William managed as best man to get the right tone between the right thing to say about his brother, while giving him a good ribbing. So no speech about Prince Harry is complete without teasing him mercilessly about his hair. Prince William pointed out that Prince Harry wasn't far behind him when it came to going bald.
Ha! Of course, the royal wedding reception wouldn't be complete without a little brotherly love and a bit of fun. Adding to the fun was a little game of beer pong (which Serena Williams won) and a bunch of other shenanigans. Clearly, the Royals know how to have a good time.
Overall, it definitely sounds like the royal family and their guests had a wonderful time celebrating the regal newlyweds.