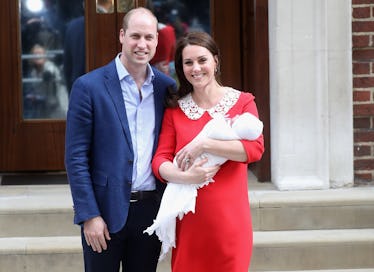 The First Pictures Of Prince Louis Are Here, & The Story Behind Them Is So Sweet
Chris Jackson/Getty Images Entertainment/Getty Images
Royal baby number three has graced the world with his presence on April 23, and since then everyone has been dying to see more and more of the little prince. And I have good news for all those that are royal family obsessed, because Kensington Palace has just shared the first official pictures of Prince Louis, and the details behind the snaps are seriously too sweet.
The newest addition to the British royal family was born to Kate Middleton and Prince William on 11:01 a.m. local time on April 23 at St. Mary's Hospital in London. Kensington Palace, the official residence of the Duke and Duchess of Cambridge, announced via their official Twitter account on April 27 that the little prince's parents have named him Louis Arthur Charles, and that he will be known as His Royal Highness Prince Louis of Cambridge.
Middleton and Prince William already share two children together — Prince George, who is turning five this year, and Princess Charlotte, who just celebrated her third birthday. And what's the best way for a new big sister to celebrate her birthday? By taking adorable pictures with her new baby brother, of course. Kensington Palace shared the first official pictures of Prince Louis and Princess Charlotte on May 5, and the two pics were taken by none other than Middleton herself. One of the captions read as follows,
The Duke and Duchess of Cambridge are very pleased to share two photographs of Princess Charlotte and Prince Louis, taken by The Duchess at Kensington Palace. This image was taken on 2nd May, on Princess Charlotte's third Birthday.
I mean, how seriously adorable is that?! I love that Middleton and Prince William decided to celebrate both their daughter's birthday and the birth of their new son as a family, and I love that they decided to share these pictures so that everyone else can celebrate with them as well. It's been just over two weeks since Princess Charlotte has officially become a big sis, and already she's a natural.
But that's not all! As I mentioned, Kensington Palace released a second image of the baby boy — this time appearing in a solo shot. The second image was taken a couple of days earlier on April 26, and Prince Louis is the star of the show here. Both images were released on the same day via Twitter, and thanked everyone that sent them warm wishes regarding their new baby and for their daughter's birthday. "The Duke and Duchess would like to thank members of the public for their kind messages following the birth of Prince Louis, and for Princess Charlotte's third birthday," Middleton and Prince William stated via the Kensington Palace Twitter, along with the angelic image of Prince Louis.
What a perfect little prince. I know that I'm not alone when I say I can't wait to see Prince Louis (and his big brother and sister) grow up before our eyes.
There's lots to celebrate in England right now. Not only have we just celebrated Princess Charlotte and Prince Louis' respective birthdays, but there is a royal wedding coming up in just a couple of weeks! Prince Harry is set to marry Meghan Markle on May 19 at noon local time. If you're planning to watch the action live from across the pond, the start time should be around 7 a.m. ET.I normally would not wake up that early for anything — but for a royal wedding, I'll make an exception.
But until then, I'll take any royal baby updates that Middleton and Prince William choose to share with the world. I'm sure everyone will be celebrating Prince Louis' arrival for the rest of the year.