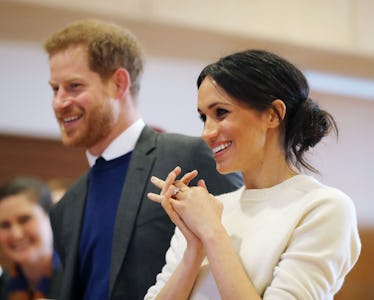 Here's How Early You'll Have To Wake Up If You're Watching The Royal Wedding In The U.S.
Pool/Getty Images Entertainment/Getty Images
The biggest wedding event of the year is upon us. Prince Harry and Meghan Markle will royally tie the knot on Saturday, May 19, and the entire world will be watching. If you plan on tuning in from home (which is probably all of us, because it was damn near impossible to score an invite), there's one very important question you'll need answered: What time does the royal wedding start? I'll need to know exactly when to have my tea and crumpets ready, because you know I'm not about to miss Meghan Markle walk down the aisle.
Unfortunately, American fans of the royal family will have to wake up pretty early to catch Harry and Meghan's vows. The royal wedding starts at the totally respectable time of 12 p.m. — in London. That translates to 7 a.m. ET and the even more ridiculous time of 4 a.m. PT for those of us tuning in from the United States. Waking up this early on a Saturday is a pretty huge commitment — at least Prince William and Kate Middleton were married on a Friday, so we were already kind of awake — but I guarantee you that it will be worth it. When was the last time you saw any sort of romance on an American news broadcast? Amidst all our doom and gloom, the royal wedding will be a much-needed distraction.
Harry and Meghan's wedding ceremony will take place in St. George's Chapel, the 800-seat religious hall in Windsor Castle. This is the same location where Prince Harry's father, Prince Charles, wed Camilla Parker-Bowles in 2005. St. George's Chapel is much smaller than Westminster Abbey — where William and Kate married — so the event will likely be more low-key than past royal weddings. The actual ceremony should take about an hour, and once the couple has exchanged vows and walked back up the aisle, they will embark on a carriage procession through the town of Windsor. All in all, the official festivities will last for about two hours, so Americans watching at home will be able to get on with their Saturday by 9 a.m. — or just go back to sleep.
The wedding itself may start at 7 a.m. ET (and you can watch it on pretty much every major network), but if you're looking to join in on more of the big day's festivities, you'll have to wake up even earlier. Most news outlets will be broadcasting pre-wedding fun and commentating on the wedding for hours after it ends, and at this point, it's pretty much a race to see who can begin their coverage earliest.
CBS is currently the leader in that race: Gayle King and Kevin Frazier will lead live coverage of the big day beginning at 4 a.m. ET. At 4:30 a.m. ET, NBC's The Today Show hosts Savannah Guthrie and Hoda Kotb will begin broadcasting from an exclusive location overlooking Windsor Castle. And 30 minutes later, at 5 a.m. ET, Good Morning America on ABC will begin their special coverage of the event.
For those of us on the east coast, 5 a.m. is a pretty early time to wake up for an event that will definitely be shown on every news platform all throughout the day (including at normal times). But those on the west coast have it even worse: Waking up at 2 a.m. for the royal wedding is a ridiculous level of commitment, and I applaud those of you who are planning on doing it. Honestly, though, you're probably better off just not going to bed. Why not have a pint or two (or seven) to celebrate the royal wedding and then continue that party all night long? By the time the ceremony starts at 4 a.m. PT, you'll be good to go.