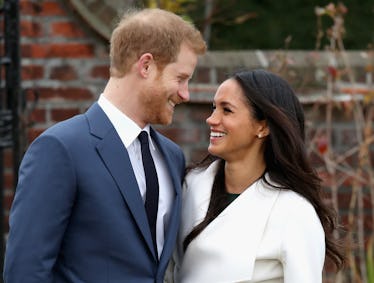 Here's How To Stream The Royal Wedding If You're Getting Up Early To Watch
Chris Jackson/Getty Images Entertainment/Getty Images
The world is just weeks away from Prince Harry and Meghan Markle's royal wedding, and excitement is at an all-time high. The couple is set to tie the knot at Windsor Castle on Saturday, May 19, and if you weren't lucky enough to nab an invite, it's likely that you'll be watching the festivities from the comfort of your own couch. But before you can settle in with a mimosa (or four) and a plate of crumpets, you have to know how to stream the royal wedding. Send my regards to the Queen, because this time around, she's made it pretty darn easy for the entire world to see her famous grandson's wedding.
If you're an American getting up early on a Saturday to watch Meghan Markle and Prince Harry tie the knot, all you'll need is a computer or TV to feel like you're right in the middle of the action. Pretty much every major network is doing some kind of royal wedding coverage, and the vast majority are kicking things off early in Britain — which means they're starting even earlier in the morning in the U.S. The things we do for royalty, right? Here's everything you need to know about how to stream the royal wedding so that you don't have to wake up even a second earlier than is absolutely necessary.
When does the royal wedding start?
If you're in Britain, you'll have plenty of time to sleep in before the wedding: The actual wedding ceremony will take place at noon, London time (technically Windsor time, but who's counting?) on Saturday, May 19. That means that the ceremony will start at around 7 a.m. ET and 4 a.m. PT for those of us in the United States. Mad respect if you live in Los Angeles and plan to wake up at 4 a.m. for the ceremony on a Saturday.
Where can I stream the ceremony?
Prince Harry and Meghan Markle have been open about wanting to include the public in their wedding festivities, so the ceremony will be televised for the entire world to see. Pretty much every major news outlet will have access to St. George's Chapel on the big day, so it's essentially dealer's choice when it comes to picking where to stream the event. If you have cable, CBS, NBC, ABC, PBS, and BBC America (my personal choice if you're looking for authenticity and/or accents) will all have feeds of the roughly hour-long royal wedding ceremony. Those of you without cable can access a live stream of the wedding via Hulu Live or another service like Sling TV.
How can I watch additional coverage?
There are plenty of ways to stream the wedding ceremony itself, but if you're a die-hard royal family stan, chances are you'll want to watch some of the additional coverage surrounding the wedding, too. And once again, the options are plentiful. Here's a breakdown of the coverage on each network:
ABC: Good Morning America will be doing special coverage of the royal wedding from 5 a.m. to 10 a.m. ET. ABC anchors Robin Roberts and David Muir will be live on the ground in Windsor to discuss everything from the attendees' fashionable hats to the Spice Girls reunion.
NBC: The Today Show hosts Savannah Guthrie and Hoda Kotb will begin coverage at 4:30 a.m. ET from an exclusive location overlooking Windsor Castle. Today at the Royal Wedding, as NBC is calling it, will "capture every aspect of the day."
CBS: CBS This Morning host Gayle King and Entertainment Tonight host Kevin Frazier will lead live coverage of the wedding beginning at 4 a.m. ET. CBS' royal news correspondent Tina Brown will also contribute insight on the broadcast.
PBS: The network will also have live coverage on May 19, but the exact timing hasn't been announced yet. Expect it to begin early, though.
BBC America: BBC America will be simulcasting BBC's live coverage of the event for viewers in the U.S. A start time has yet to be announced, but coverage will include the usual pre-wedding fun and the ceremony itself, plus the Prince Harry and Meghan Markle's "Carriage Procession from St George's Chapel through Windsor Town returning to Windsor Castle via the Long Walk" following the ceremony. BBC America will also air an encore presentation of the wedding later in the day for Americans who just couldn't handle the early wake-up.
I wasn't kidding when I said that royal wedding excitement is at an all-time high. It's not every day that an American actress gets a chance to become real royalty, not just Hollywood royalty. About 23 million Americans watched Prince William marry Kate Middleton in 2011, but I'm betting that the Hollywood-intrigue factor will push even more people to this year's festivities (the 7 a.m. versus 6 a.m. ET start time doesn't hurt, either).
Tune in on May 19 to make Prince Harry and Meghan Markle's ceremony the most-watched royal wedding yet!