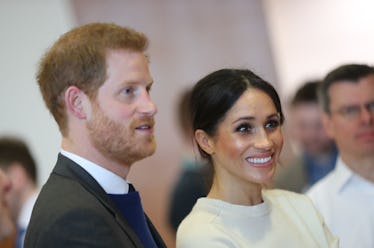 NBC Is Giving Us An Inside Look At Meghan & Harry's Wedding & Wow, I Wish I Was Royal
Pool/Getty Images Entertainment/Getty Images
If you've got royal wedding fever, you are certainly not alone. Prince Harry and Meghan Markle are set to tie the knot at Windsor Castle on May 19 and the world will be watching, but if you're looking to get the party started early, NBC has got you covered. America's most fun (and informative!) aunts, Hoda Kotb and Savannah Guthrie, will be hosting a pre-wedding primetime special straight from England for the network that is slated to "explore Harry and Meghan's whirlwind romance." When does Inside The Royal Wedding: Harry & Meghan premiere on NBC? Get ready to put on a pot of of your finest tea come Wednesday, May 16 at 10 p.m. ET/PT.
Fancy an invite? According to The Hollywood Reporter, the broadcast is set to "give viewers an exclusive and unprecedented glimpse into the fairytale romance of Prince Harry and Meghan Markle that has captured the imagination and hearts of everyone around the world." I would personally watch the delightful Hoda Kotb recite the alphabet on repeat, so the thought of her hyping up one of the most anticipated events of the year sounds like a glorious way to kick off the royal festivities.
"Filmed in Europe, Africa and the U.S., the special will also feature the people who have inspired the pair on their global charity-focused journey, from the motivational stories of Harry's fellow soldiers injured overseas, to the role models and mentors who have influenced Meghan's passions and interests," NBC and ITN Productions stated regarding what to expect from the special. It will also apparently offer up insider tidbits about the wedding, from the dress to the decor. The special will also feature exclusive interviews with prominent figures from the worlds of fashion, sports and show business," NBC has revealed.
Of course, the extensive coverage doesn't stop on Wednesday. Nobody's walking down that aisle at St. George's Chapel until the 19th, people. The Today Show will broadcast all four of its hours on Friday, May 18 from an exclusive location that overlooks Windsor Castle. Not too shabby. Bring on the Kathie Lee celebrations!
Come May 19, also known as "The Big Day," there will be a special edition called Today at the Royal Wedding that will "capture every aspect of the day," starting at 4:30 a.m. ET.
Meghan Markle and Prince Harry have been dating since 2016. The pair announced their engagement on November 27, 2017.
"We're a couple," Markle explained to Vanity Fair in the fall of last year, regarding her public relationship. "We're in love. I'm sure there will be a time when we will have to come forward and present ourselves and have stories to tell, but I hope what people will understand is that this is our time. This is for us. It's part of what makes it so special, that it's just ours. But we're happy. Personally, I love a great love story."
If Meghan's heartfelt words aren't enough to make you swoon, note that Harry surprised her with his sweet proposal on a "cozy night" in as they were roasting a chicken.
"The fact that I fell in love with Meghan so incredibly quickly is confirmation to me that all the stars are aligned," Harry gushed about his bride-to-be in the couple's first televised interview following the news of their upcoming marriage.
May 19 can't come soon enough, but it's nice to know that the days leading up to the official ceremony will serve up plenty of pre-wedding goodness to get viewers sufficiently pumped. Inside The Royal Wedding: Harry & Meghan airs Wednesday, May 16 at 10 p.m. ET/PT on NBC.