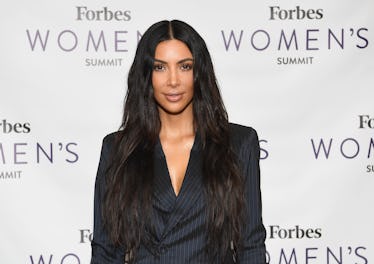 Kim Kardashian Took Her Kids To A Pumpkin Patch & The Pics Are So Cute
ANGELA WEISS/AFP/Getty Images
Pumpkin spice lattes, chilly weather, bonfires, boots, flannel shirts, leaves changing — whatever your reason, literally everyone loves fall. If you don't... I'm sorry, I just can't help you. Even Kim Kardashian has an undying love for fall and I have proof. She recently headed out to a pumpkin patch with her kids and it doesn't get much more fall than that. Photos of Kim Kardashian with her kids at the pumpkin patch will seriously make you wish you were a Kardashian-West (if you didn't wish that already).
The real kicker is the family's outing looks so, so typical. Kim is even wearing pants and a grey T-shirt. IT'S LIKE I DON'T EVEN KNOW HER ANYMORE. Sure, the pants have a sort of leather-like shine to them and she's wearing taupe-colored ankle boots with a heel, but Kim still looks so casual (in the chicest way possible, of course).
Kanye sat this trip out — maybe he doesn't like to get hay on his Yeezys or he was just busy. However, North and Saint look like they're having a ball with mom. The kids ran around and North even took a turn going down the giant inflatable slide with Kim.
I honestly feel like Kim doesn't hear this enough, but she seems like a really great mom. Also, I know we all obsess over North and her already amazing style as a toddler, BUT HOW FREAKING CUTE IS SAINT?
I'm not sure if I just see less photos of him or what, but he melts my heart. The kiddos were both rocking Adidas bottoms (obviously) and looked happy to be out and about.
Kim also seemed like she was having a fun day with North and Saint. In the photos, she looks so calm and collected (and perfectly contoured). If I had two kids to keep track of, I would be losing my mind. I can barely keep track of my dog. Way to be, Kim.
North and Saint look like they're getting along really well considering Kim has spilled that the two have a sort of sibling rivalry thing happening between them.
According to E! News, while Kardashian was filling in for Kelly Ripa on Live! With Kelly and Ryan in August, she opened up about North and Saint being "so different." She said this about the sibling rivalry between North and Saint,
I don't know if it's 'cause she's the older sister... I don't know what it is; I thought it was a phase. She does not like her brother. It's so hard for me ... I thought it was like, 'OK, a couple months; she's just warming up to it.' She got so jealous when I would breastfeed and all that stuff. Now, the phase isn't going away!
This sounds like a totally normal thing between young sibs. Kardashian said North thinks of tricky ways to exclude her brother. She continued,
She's like, 'We're having a tea party. No boys allowed. Dad can't come. No boys!' She'll slam the door on her brother's face, and he'll just start crying.
With tactics like this, North is legit going to rule the world someday. Although she may not be partial to Saint, he seems to have taken a liking to his big sis.
[Saint] likes to imitate her now. So if she's crying, then he'll just start fake crying. I'm like, 'One of you! I can't pick up both of you and figure it all out!'
Parenting sounds hard AF. At least Kim seems to have a pretty good handle on it.
I hope the Kardashian-West clan had a great time at the pumpkin patch and the pics have inspired you to do something festive for fall. Always remember — when in doubt, pumpkin errythang.
Check out the entire Gen Why series and other videos on Facebook and the Bustle app across Apple TV, Roku, and Amazon Fire TV.