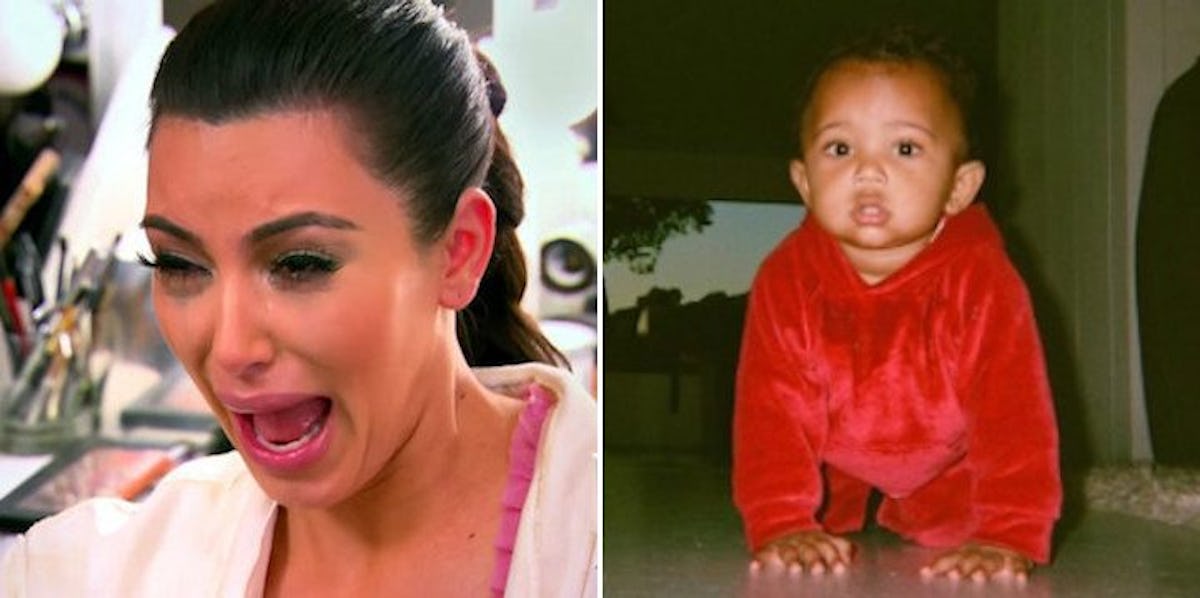 Kim Kardashian Says Saint West Has Her 'Same Cry Face,' So That Sucks
E! / Instagram
Kim Kardashian has apparently passed down her greatest legacy to her offspring: the Kim K crying face.
Even if you know nothing about Kim, even if you've never seen a single episode of "Keeping Up with the Kardashians" and even if you've never clicked on an article about her (until today, for some reason), you know this face.
This face has been made into GIFs. It's been put on shirts. It's been sent to every group chat in the world.
I think you know the face I am referring to.
The face Kourtney Kardashian infamously dubbed as Kim's "ugly crying face."
Well, apparently Kim has passed this infamous trait on to her 1-year-old son, Saint West.
On January 31, while Kim was replying to some fans on Twitter, someone asked her if Saint was a frequent crier.
She responded,
Nope! He's so good but omg he has my same cry face.... poor guy!
Poor guy, indeed. Imagine this sweet, little face contorting like Kim's when he cries.
Maybe someday Saint will get his crying face on a shirt, too.
Luckily for Saint, thanks to societal gender roles, he is pretty much not allowed to cry ever and will therefore be trained to repress his emotions instead. Phew!
As for North, she's more of the bully/jealous sister most of the time, according to Kim.
Man, I'm really starting to feel bad for young Saint, here.
I mean, having a sister who pushes him down AND Kim's ugly crying face? This little dude is really getting some short sticks handed to him.
PLUS, he might have to share even more of the spotlight soon, since Kim started rumors she's thinking about pregnancy.
While promoting her upcoming kids clothing line with Kanye West on Twitter, Kim retweeted a tweet that said,
RT if you're getting pregnant in time for the Kim + Kanye kids line launch.
She then later clarified she is NOT pregnant...yet.
We'll see. Poor Saint may soon have another baby in his life to deal with.
Of course, his mom is also one of the richest people in the world, so, you know, it's not all bad.
Citations: Kim Kardashian Reveals Son Saint Has Her 'Same Cry Face' (Entertainment Tonight), Kim Kardashian Sparks Pregnancy Rumors (The Daily Mail)