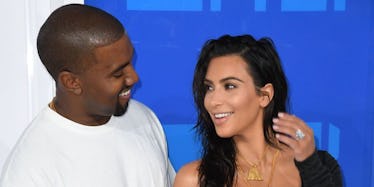 Kim K's Story About How She Fell In Love With Kanye Is The Cutest Thing Ever
Angela Weiss/Getty Images
The Keeping Up With The Kardashians 10-year anniversary special aired on Sunday, Sept. 24, and the family talked about life since the show started and how much things have changed over the years. They talked about the night Lamar Odom overdosed, Kourtney and Scott talked about whether or not they'd ever get back together, and Kris talked about how difficult it was when Caitlyn Jenner went through her transition. There were lighter moments, of course, and Kim Kardashian talking about how she and Kanye West fell in love is one of them. Lots of people want to know: How did Kim Kardashian and Kanye West meet? Kardashian revealed the entire story during the special. She said,
I met him I think in 2002 or 2003. He was recording a song with Brandy, and I was her friend. I vividly remember hanging out with him and then they did a video together, so I'd see him a few times. He was asking his friends: 'Who is this Kim Kardajan?' He didn't know what my name was. Right before I got married to Kris Humphries, [Kanye and I] were talking, and I just went a different direction. I think I had to go through that to figure out what I wanted. After my breakup, I was feeling really low and down and he said, 'Just come to Paris and see my fashion show.' He jokes that he put on this whole fashion show just to get a date with me. So I went there and I stayed with him, and that's where we started dating. I swear from the moment I landed, I fell madly in love with him and I thought, 'Oh my God, why didn't I do this sooner?' Like, this is what real life is like — love and fun and real support.
We've known for a long time that West was trying to date Kardashian long before they were the reigning family of social media. Back when she was still pals with stars like Paris Hilton and Lindsay Lohan, West showed interest in her and wanted to take her out, but just like Kardashian said, it never ended up happening. Apparently, it took Kardashian being with the wrong guy for her to realize who the right one was! Tale as old as time.
In a 2012 interview with Oprah, Kardashian said she and West had been friends for years before ever even dating, and that friendship is what helped set the groundwork for their romantic relationship. She said,
We met maybe almost a decade ago, I've known him for a really long time, we've been friends for like six or seven years, so it's very comforting to have someone that knows everything about you that respects you, understands, has gone through similar things. I can really relate to his mother passing, he can really relate to my father passing. I mean, there's so many similarities in our life that I feel like I'm at a really happy, good space.
She added, "I don't know why it took so long for us to kind of get together. But I think I needed to go through all my experiences and some that he's gone through." Kim and Kanye 4 ever. The other Kardashian sisters were pretty open about their current relationships as well.
Khloé Kardashian revealed she and Tristan Thompson met on an "ambush" blind date (not as intimidating as it sounds, I promise), and Kourtney Kardashian and Scott Disick revealed their relationship is best when they just stick to co-parenting, no romance involved. (Although, Disick does pretty much flat-out say he wants to be with her.) Khloé said about Tristan,
I was put on a blind date with Tristan and that's how [we met]. Brandon Jennings, who is a basketball player and a friend of mine and Malika [Haqq]'s, was like, 'You're such a good girl, I want to introduce you to someone.' I was at the Bel-Air Hotel, and [Tristan] came to the dinner. I didn't want to go on a blind date, so Brandon kind of ambushed the blind date. We just connected.  It's a serious relationship. Pretty much whenever he's at home in Cleveland I travel there. If he's around, of course he'll be on [the show].
Kourtney Kardashian said about her co-parenting relationship with ex-boyfriend Scott Disick,
I guess we're co-parenting our kids and just trying to get along. I mean, he's family. But I mean, we're definitely psychotic. I think that since we've broken up the last time, which was almost two years ago, we've never been back together, even though we travel together with the kids. It's confusing to people.
Yeah, it doesn't look like they're getting back together anytime soon. Although Kim, Khloé, Kourtney, and Kris all talked about their current and past relationships in the anniversary special, Kylie Jenner didn't reveal anything about her rumored pregnancy. In case you missed it, Kylie Jenner and Travis Scott are reportedly expecting their first child together. Elite Daily reached out to Jenner and Scott's teams for comment, but did not hear back by time of publication.