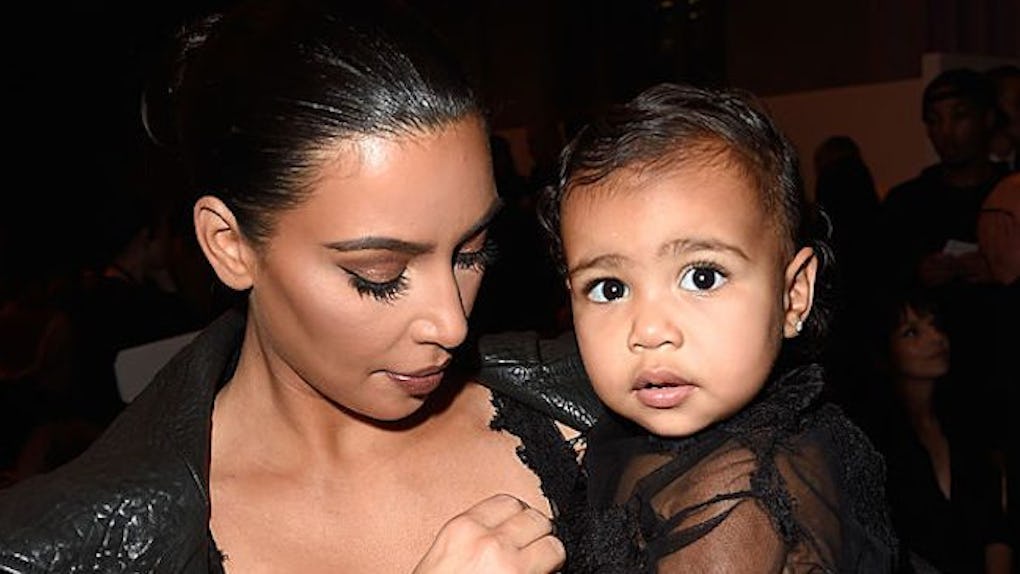 Pascal Le Segretain/Getty Images
North West's First Interview With Interview Magazine Is All About Pizza & Puppies
Come one, come all. Gather around me, for we are about to embark on the reading of a truly sacred text: North West's first ever "tell-all" interview. While I knew this glorious day was coming, I admit I didn't expect it to come so soon. But it's true: Kim Kardashian's 4-year-old daughter with Kanye West, North West, gave her very own exclusive to Interview Magazine, and it's frankly amazing.
North dished on everything from her favorite color to her favorite Disney princess, with the help of some fellow young celebrity interviewers. The first person blessed with the task of interviewing North was Kaia Gerber (who is a model and the daughter of Cindy Crawford). Kaia asked North what the best thing about having a little brother was, and North replied,
Giving him toy trucks, and I gave him a big toy bear.
Astounding. North also told Gerber that her family calls her "Bubs" and that her favorite pizza topping is cheese, resulting in the best quote of the article: "Just cheese! Cheese, cheese — everywhere cheese."
Millie Bobby Brown, who plays Eleven on  Stranger Things, had the honor of asking North about her favorite Disney princess — "Jasmine, because I love her," — her dream birthday plans — "I want all the princesses to come over," and her best friend — "Mama."
Next up was Penelope Disick, 5-year-old daughter of Kourtney Kardashian and Scott Disick, and North's cousin. Penelope asked, "Can I sleep over at your house for four days and bring my puppy?" To which North replied, "Oh yeah!" Then Penelope asked if they could have a baking party, which North was all for — as long as they made rainbow cake.
The last interviewer was Andy Warhol (founder of Interview Magazine), which the article explains in the introduction is questions from the late artist's writings. Andy Warhol died in 1987, so no, he didn't actually interview North West, as amazing as that would be. "Warhol" asked North if she does her own nails (yes), what she carries in her bag (toys), and what her favorite color is (rainbow).
Honestly, this is the best interview I've ever read, and I highly recommend it. It even features original artwork by North herself. The full cover story will be a available in the September issue of Interview Magazine.