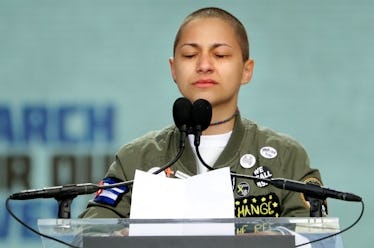 Parkland Students Responded To The Santa Fe Shooting & Their Tweets Are Necessary
Chip Somodevilla/Getty Images News/Getty Images
A school shooting took place at Santa Fe High School in Santa Fe, Texas on Friday, May 18. The tragedy is all too familiar for students who witnessed a mass shooting at Marjory Stoneman Douglas High School on February 14, 2018. Students from Parkland, Florida behind the March For Our Lives protest spoke their minds on Twitter after news broke about Santa Fe. As you could imagine, the Parkland students' responses to the Santa Fe High School shooting are extremely impactful.
It comes as no surprise that these students would respond to the Santa Fe High School shooting with such poignancy and eagerness to help, because they went through a similar tragedy just months before. Seventeen people at Marjory Stoneman Douglas High School lost their lives as a result of the school shooting that took place on their campus in February. According to CNN, at least eight people and as many as 10 people have died as a result of the school shooting in Santa Fe on Friday morning, though a final number has yet to be confirmed. The alleged suspect is believed to be a student, and he is reportedly in custody.
After the school shooting in Parkland, Florida, a handful of Marjory Stoneman Douglas students created a movement to advocate for gun control (known as the Never Again movement), and later conducted March For Our Lives. The main event, which addressed gun violence in America in an effort to ensure it never happens in schools again, took place in Washington, D.C. on Saturday, March 24. Faces behind the movement — such as Emma Gonzalez, David Hogg, Cameron Kasky, and more — spoke their minds openly about gun violence in the United States. Just months later, after the horrific school shooting in Santa Fe, they spoke their minds once again.
Emma Gonzalez, 18-year-old senior at Marjory Stoneman Douglas High School, is a survivor of the Parkland school shooting. She has become a leading activist for gun control, and addressed the recent tragedy at Santa Fe High with a tweet. She said, "Santa Fe High, you didn't deserve this. You deserve peace all your lives, not just after a tombstone saying that is put over you. You deserve more than Thoughts and Prayers, and after supporting us by walking out we will be there to support you by raising up your voices."
David Hogg is another 18-year-old senior at Marjory Stoneman Douglas who has become a leading gun control activist. Hogg firmly addressed the Santa Fe High School shooting on Twitter, and started by saying, "We are fighting for you."
Hogg continued, and wrote, "Get ready for two weeks of media coverage of politicians acting like they give a sh*t when in reality they just want to boost their approval ratings before midterms."
A few other Parkland students who tweeted about the Santa Fe shooting include Cameron Kasky, Sarah Chadwick, Alex Wind, and Jaclyn Corin. Once again, these students are standing out in solidarity amongst a horrific school shooting.
However, the students aren't the only ones who used Twitter to address the public after the tragedy at Santa Fe High. The March For Our Lives Twitter account also tweeted a statement about the shooting. The statement says,
We are deeply saddened by the tragedy at Santa Fe High School and send our love and support to the families affected as well as the entire community. Though this is the 22nd school shooting this year, we urge those reading this not to sweep it under the rug and forget. This is not the price of our freedom. This is the most fatal school shooting since the one at our school and tragedies like this will continue to happen unless action is taken.
Santa Fe, we are with you, and we will do whatever we can to support you as the days go on.
There's no doubt in my mind that the students from Marjory Stoneman Douglas and Santa Fe High will continue the fight for better gun control.