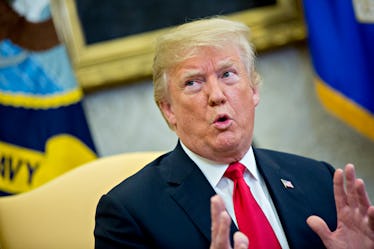 Donald Trump's Response To The Santa Fe High School Shooting Was Nonchalant
Pool/Getty Images News/Getty Images
Shortly after news reports indicated a mass shooting at Santa Fe High School in Texas, President Donald Trump offered a response to the developments via Twitter. "School shooting in Texas. Early reports not looking good," the president said. "God bless all!" Later, Trump would address the shooting before reporters at the White House, for yet another time during his presidency.
"Unfortunately, I have to begin by expressing our sadness and heartbreak over the deadly shooting at Santa Fe High School in Texas that took place moments ago," President Trump said. "We're closely monitoring the situation and federal authorities are coordinating with local officials. This has been going on too long in our country. Too many years, too many decades now."
The Sante Fe school shooting happened on Friday, May 18, about 35 miles away from Houston. The shooting is reported to have resulted in as many as 10 deaths, though officials have yet to confirm a final number at this time.
According to KTRK-TV, the Houston affiliate of ABC, the school went into lockdown at around 8 a.m. local time. Around 30 minutes later, the Houston County sheriff's office announced via Twitter that the incident at Santa Fe high was no longer an active shooter situation. Two alleged suspects believed to be students are in custody, according to KTRK.
The Santa Fe shooting is the 22nd school shooting of the year, according to CNN. Speaking to NPR, one student said in now-viral interview, "It's been happening everywhere. I always felt like eventually it would happen here. I wasn't surprised, I was just scared."
Another student described the scene for CNN affiliate KPRC-TV: "I was in the history hallway, and as soon as we heard the alarms, everybody just started leaving following the same procedure as ... [a] practice fire drill," Dakota Shrader said. "And next thing you know, we just hear ... three gunshots, loud explosions, and all the teachers are telling us to run."
Hours after the shooting took place, the Santa Fe independent school district (ISD) announced via Twitter that explosive devices had been found at Santa Fe High.
"There have been explosive devices found in the high school and surrounding areas adjacent to the high school," the Sante Fe ISD tweeted. "Because of the threat of explosive items, community members should be on the look-out for suspicious packages and anything that looks out of place ... Do not touch any items out of place and call 911 as we have agencies that can respond. Our thoughts and prayers are with our students, staff and our community. Please pray for our Santa Fe ISD community."
The latest American school attack is likely to prompt a familiar debate among politicians about how to respond to the trend of mass shootings.
"There's little left to be said about the horrific school shooting tragedies that we've seen over and over – today in Texas," Vermont Senator Bernie Sanders tweeted. "These are very sick acts. Congress and Trump must finally have the courage to stand up to the NRA and do what the American people want. Enough is enough!"
During his address before reporters at the White House on Friday, Trump said his "administration is determined to do everything in our power to protect our students, secure our schools, and keep weapons out of the hands of those who pose a threat to themselves and others."
In the meantime, there will be reason to fear that the rate of mass shootings will continue to increase.
"With the amount of coverage Parkland received, you probably will see an uptick," Jaclyn Schildkraut, a State University of New York professor and expert on mass shootings, told BuzzFeed News earlier in May. "Copycatters are becoming a public safety issue."