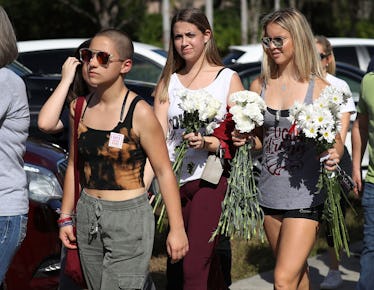 Emma Gonzalez Is One Of The Parkland Students Taking On The NRA & She's Not Giving Up
Joe Raedle/Getty Images News/Getty Images
After a gunman killed 17 people in February at a high school in Parkland, Florida, a number of students who survived the attack have become prominent activists for gun control. One of those activists is an 18-year-old senior at Marjory Stoneman Douglas High School, the site of the shooting. Through her numerous appearances at televised rallies and in interviews. that senior has made the question worth asking: Who is Emma Gonzalez?
The short answer? Gonzalez is a Parkland survivor who is so steeped in activism that she now is considering deferring her first year of college.
"I know [my parents] would be very upset to know that a) I am considering it, or that b) it's something that I have to be considering," Gonzalez told BuzzFeed News on Monday, March 5. During the interview, Gonzalez's words gave the sense that deferring a freshman year in college had become moral obligation, particularly as other Parkland students who have advocated alongside her have decided to put their plans for college to the side.
"As the days go by, I'm kind of realizing I might not have a choice in that," Gonzalez told BuzzFeed News. "Do I have any right to feel like I deserve to go to college?"
Gonzalez is one of several students who together form the "Never Again" movement. Gonzalez was recruited into the band of pro-gun control students on the Saturday, Feb. 17, three days after the shooting at Stoneman Douglas High took place, according to a New Yorker profile of the movement.
Gonzalez's most prominent moment of advocacy came on that very Saturday, when she delivered a speech she had written on the same day before a rally in Fort Lauderdale. During the speech, she prompted the crowd to repeat a refrain that would go viral: "We call B.S."
A transcript of her speech reads,
The people in the government who were voted into power are lying to us ... Politicians who sit in their gilded House and Senate seats funded by the NRA telling us nothing could have been done to prevent this, we call BS. They say tougher guns laws do not decrease gun violence. We call BS. They say a good guy with a gun stops a bad guy with a gun. We call BS. They say guns are just tools like knives and are as dangerous as cars. We call BS.
Gonzalez is a first-generation American and daughter of Cuban lawyer who came to the United States in the 1960s, according to The Washington Post. She has been the subject of not only medias interview, both in television and in print, but also an op-ed in Harper's Bazaar.
"We are tired of practicing school shooter drills and feeling scared of something we should never have to think about. We are tired of being ignored," Gonzalez wrote. "So we are speaking up for those who don't have anyone listening to them, for those who can't talk about it just yet, and for those who will never speak again. We are grieving, we are furious, and we are using our words fiercely and desperately because that's the only thing standing between us and this happening again."
Gonzalez has also racked up an impressive social media following. Since mid-February, she gained over one million followers on Twitter — especially impressive compared to the NRA's 619,000 followers.
Like other activists, Gonzalez has linked NRA contributions to members of Congress as a key factor that has led to a lack of gun control legislation. Republican lawmakers, like Senator Marco Rubio (FL), have argued against that idea. Rubio told a crowd of Parkland community members that organizations who make contributions to him are buying into his ideas and not the other way around.
It's far from safe to say Gonzalez is representative of all Parkland students' views. A conservative Parkland student's trip to Washington D.C. is proof of that simple fact. Still, her many interviews, speeches, and plans to rally alongside side other Never Again students at the March For Our Lives, makes her a prominent voice against gun violence.