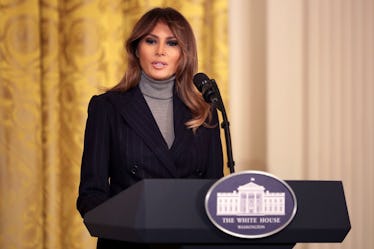 There's A Story Behind This Photo Of Melania Trump With A Parkland Survivor
Chip Somodevilla/Getty Images News/Getty Images
The Parkland student survivors are without a doubt making history. From public calls to action to organizing huge protests, these high school students are making sure their voices are being heard. However, not all of them share the exact same viewpoints. So, who is Kyle Kashuv? This Parkland student just recently visited the White House.
According to an Instagram posted by first lady Melania Trump on March 11, Kashuv met with the White House for what I'm assuming to be a conversation surrounding the heated topic of gun control and school safety. Kashuv, a junior at Marjory Stoneman Douglas High School with political opinions leaning towards the conservative side, is a survivor of the tragic school shooting in Parkland, Florida on Feb. 14 which killed 17 people. In the weeks since the shooting, he has promoted the ReachOut app, which helps students connect with each other to find support for emotional or mental health issues.
Melania Trump took to Instagram to thank Kashuv for his visit. In the caption of the photos, she wrote a message of admiration, saying,
Wonderful to meet @KyleKashuv today. His message of unity is one we should all share. Thank you for visiting us at the @WhiteHouse & hope you enjoyed your surprise meeting with @potus! Wishing you much success w @TheReachOutApp.
While most Parkland students have been calling for stricter gun control laws, Kashuv, who described himself as conservative in a profile with Townhall.com, hasn't necessarily seen eye to eye with his classmates. During an appearance on Bill Maher, Parkland student David Hogg explained that he refused Trump's invitation to a scheduled open listening session at the White House. Hogg went on to say that he "hung up on the White House the other day" when invited to the session.
During an interview with Martha MacCallum of FOX News on March 6, Kashuv openly criticized his classmate Hogg for his refusal to speak with Donald Trump.
Kashuv said,
The president calls Hogg and it shows he wants to make a change, and you're talking about bipartisan change and the one man who leads our nation comes to you and says 'let's do something, let's make it happen.' And you hang up on him? You hang up on him and brag about it on national television? It's extremely counterproductive.
Kashuv has also expressed thoughts that his classmates call for gun violence is "counterproductive" and believes that everyone should be uniting together rather than protesting.
When Secretary of Education Betsy DeVos visited Marjory Stoneman Douglas High School on March 7 to much controversy, Kashuv supported her visit. While most students were upset over DeVos's visit, Kashuv actually spoke in favor of the secretary's arrival via Twitter, responding to a classmate's tweeting "No one asked for this," by responding, "I did, actually."
Following his visit, Kashuv took to Twitter to share his gratitude to the president and first lady for their hospitality. "Was so great meeting @FLOTUS and @POTUS @realDonaldTrump," he wrote. "They're true patriots."
President Trump has previously met with Parkland survivors, parents, and gun control advocates during an open listening session on Feb. 21.
However, not all Parkland students were in attendance. Many, like Hogg, decided to opt out of the session. Hogg explained his reason for not attending during an interview with Bill Maher.
Hogg said,
They called me the day before the listening sessions and asked if we were going to come. I said I'm not coming because we expect President Trump to come to the CNN town hall. I ended on this message with them. I said, 'We don't need to listen to President Trump. President Trump needs to listen to the screams of the children and the screams of this nation.'
While Hogg may have not been at the session, attendees, like student Samuel Zeif, shared heartbreaking stories and pleaded for reform, President Trump has yet to confirm that he plans to make any changes to current gun control laws.
First lady Melania Trump has also expressed her thoughts concerning the recent Parkland survivor protests.
On Feb. 26, Melania Trump spoke to spouses of governors about what she's witnessed during her first year as first lady, implying that she approved of the protests and movements on gun control that have sprung up after the Parkland shooting such as the upcoming March For Our Lives and National School Walkout protests.
She said,
I have been heartened to see children across this country using their voices to speak out and try to create change. They're our future and they deserve a voice. I know all of you are seeing this in your own states and territories too, and I believe that if we all come together we can start to effect positive change for our children and help prepare them for their futures. As I have said before, it is important that as adults we take the lead and the responsibility in helping our children manage the many issues they are facing today.
Well, I must say that Melania Trump's encouraging statement did take me by surprise. Here's to hoping we see change in the near future.