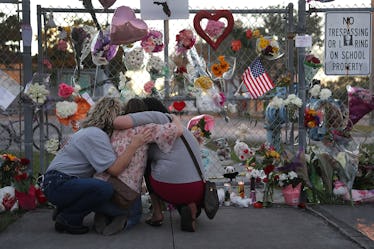 This Parkland Shooting Survivor's Speech To Donald Trump Should Be Required Listening
Joe Raedle/Getty Images News/Getty Images
The tragic shooting at Marjory Stoneman Douglas High School in Parkland, Florida has prompted the White House to listen to advocate and survivors' stories. On Feb. 21, Trump scheduled an open "listening session" in order to hear thoughts from those impacted by this tragedy. Well, Parkland shooting survivor Samuel Zeif's listening session speech to Donald Trump tells a powerful story that we need to hear.
Trump came face to face with dozens of high school students, parents, and more in order to concerns surrounding gun control and school safety. Many took the floor in order to express their thoughts and feelings following the shooting at Marjory Stoneman Douglas. One of the attendees and Parkland survivors, Samuel Zeif, delivered a powerful speech about his feelings of safety following the shooting and how this tragedy will forever impact his life.
He said,
It doesn't even feel like a week. Time has stood still. To feel like this ever, I can't feel comfortable in my country knowing people have, will have, ever going to feel like this. I want to feel safe at school. Senior year and junior year are big years for me when I turned my academics around, started connecting with teachers, and actually started enjoying school. And now I don't know how I'm ever going to step foot in that place again or go to a public park after school or walk anywhere. Me and my friends get scared when a car drives by, anywhere...We need to let ideas flow and get the problem solved. I don't understand. I turned 18 the day after, woke up to the news that my best friend was gone and I don't understand why I can still go in a store and buy a weapon of war, an A.R. I was reading today that a person 20-years old walked into a store and bought an A.R-15 in five minutes with an expired I.D.
Other attendees included Marjory Stoneman Douglas teachers and administrators, parents of victims, members of the Sandy Hook Promise nonprofit, and other individuals who have witnessed gun violence firsthand.
The Parkland, Florida shooting occurred on Feb. 14, where a past student of Marjory Stoneman Douglas High School opened fire. Shortly before 6:30 p.m. ET that same day, the Broward County Sheriff Scott Israel's office confirmed via Twitter that there had been 17 fatalities.
Following the shooting, Florida Governor Rick Scott spoke to President Trump, who expressed his condolences on Twitter and claimed to be working with Scott and law enforcement.
My prayers and condolences to the families of the victims of the terrible Florida shooting. No child, teacher or anyone else should ever feel unsafe in an American school.
While some may have doubted him, it looks like Trump might actually be trying to make some change happen.
The students of Marjory Stoneman Douglas High School have not been silent about their call for gun control. David Hogg, a Douglas senior, spoke candidly to CNN about the impact gun violence has on children such as himself, and said that change needs to happen immediately from Congress.
He said,
I want to show these people exactly what's going on when these children are facing bullets flying through classrooms and students are dying trying to get an education. That's not OK, and that's not acceptable and we need to fix that. We're children. You guys are the adults. You need to take some action and play a role. Work together, come over your politics, and get something done
Hopefully this open listening session helps open Congress' ears to these survivors' stories. If you want to know how to help following the Parkland shooting, here's a full rundown.