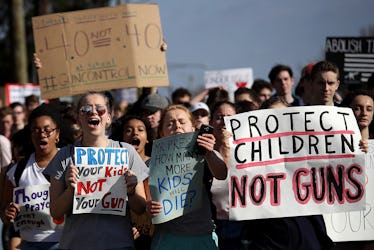 This "Never Again" Shirt For Gun Reform Will Let You Wear Your Activism Proudly
Win McNamee/Getty Images News/Getty Images
Unless you've been living under a rock, I can safely assume that you've heard about the upcoming March For Our Lives. This is a nationwide protest that aims to protest gun violence and will urge Congress to pass stricter gun laws. Marches have been organized in major cities across the country so that everyone who wants to participate can. And if you don't have anything to wear, I have the perfect protest shirt for you. So, where can you buy the "Never Again" shirt for gun reform so that you have something to sport at the March For Our Lives on March 24?
This short sleeve tee features large white printed block letters with the phrase "Never Again" — the title of the movement that was organized by the survivors of the horrific Feb. 14 school shooting in Parkland, Florida. This official charity shirt also features the phrase "Protect Kids, Not Guns." printed on the left sleeve. The shirt was created by the crowd-selling platform Represent in partnership with the #NeverAgain movement, according to Represent. It's available for purchase for $25.99 (plus shipping and handling) and proceeds go towards fundraising efforts for groups advocating for an end to gun violence. The website where you can purchase the shirt states,
In response to the tragic shooting at Stoneman Douglas High School in Parkland, Florida — we've partnered with the #NeverAgain Movement which supports the Broward Education Foundation and Everytown to fundraise to end gun violence in this country once and for all.
Unfortunately, according to the website it's probably too late to order this shirt online and receive it in time by March 24 for the March For Our Lives. But that doesn't mean that you can't buy this shirt anyway to show your support for this movement against gun violence and donate to a really great cause. You might also be able to find shirts that support March For Our Lives on site at the various marches, so keep your eyes peeled and be sure to bring cash if you want to make a purchase in-person.
Some of the organizations partnering with the March and its fundraising have been working to advocate for gun safety for a number of years. Since 2013, the joint group Everytown for Gun Safety (formed by Mayors Against Illegal Guns and Moms Demand Action for Gun Sense in America) has created a community of over 2 million members that are working towards changing gun policy in the United States. But it wasn't until the Parkland shooting that we saw such a large nationwide public outcry for gun control and gun safety.
As the website states, this shirt was designed in conjunction with the #NeverAgain movement. That hashtag is truly what started it all. After the students of Marjory Stoneman Douglas High School in Parkland suffered the loss of 17 of their peers in a school shooting, they decided that they've had enough. Students and allies began using social media to express their anger and frustration with gun laws in this country using #NeverAgain as a sign of solidarity.
And these same students organized the March For Our Lives on Washington D.C. so that they can demonstrate their frustrations in the nation's capital. Inspired by the motivation of these students to have their voices heard, countless other marches have been organized in the United States and in countries and cities worldwide. It's amazing how much has happened and the volume of people who have mobilized to fight for gun control reform, and how these Parkland students have been able to move the masses to action. You can find out if there is a march organized near you by searching your country and city on the official March For Our Lives webpage, and hopefully you'll be able to get out and show your support on March 24.
But if you live too far or can't make it to a protest, buying this shirt is just one of the many ways to show your support and solidarity.