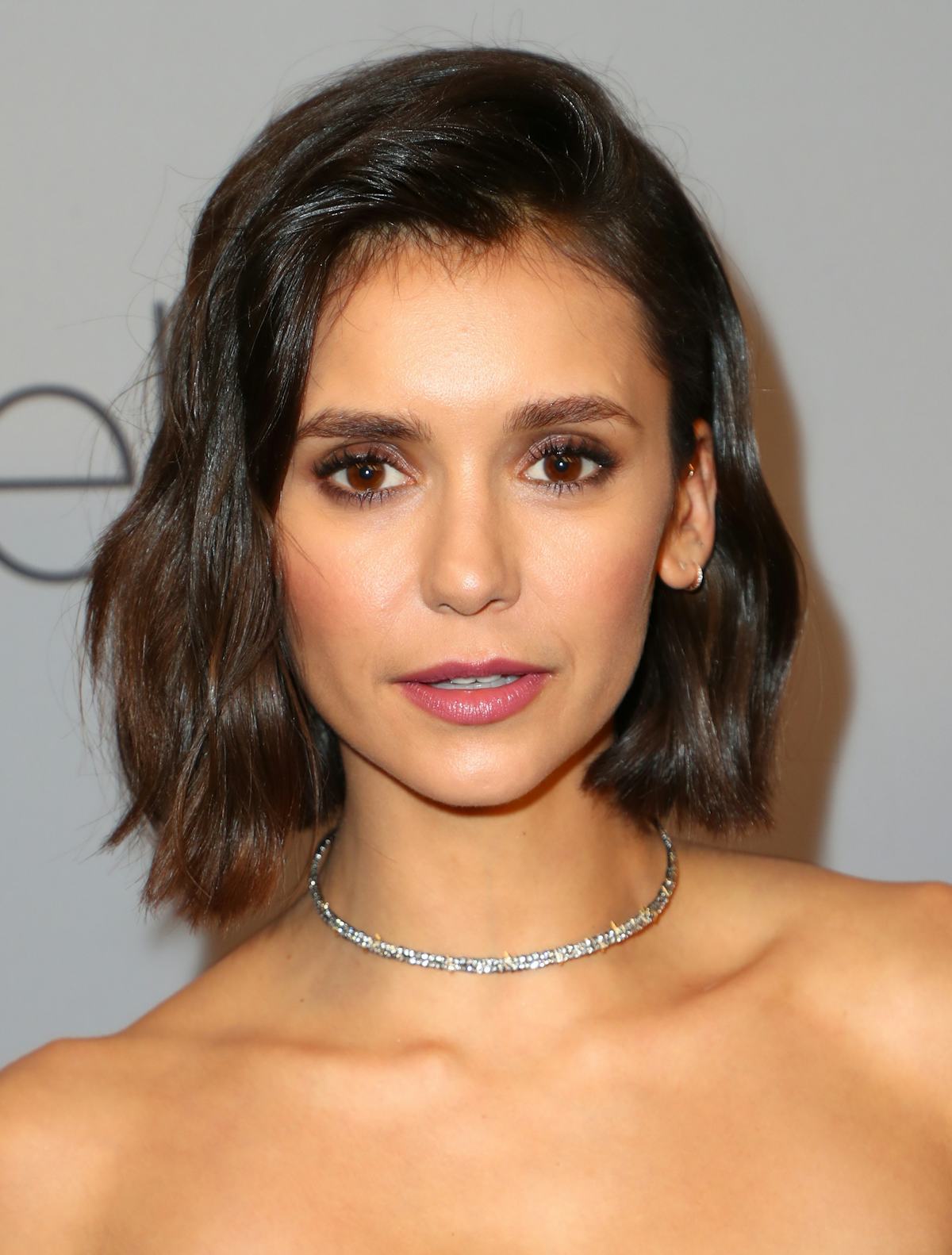 Nina Dobrev Just Debuted A Fierce New Asymmetrical Hairdo, But There's A Twist
Joe Scarnici/Getty Images Entertainment/Getty Images
Considering the CFDA Awards is one of the very few events of the year dedicated entirely to the fashion industry, what better time for the best-dressed celebrities, editors, and influencers alike to debut their most daring fashion and beauty looks, right? Well, apparently, that's what Nina Dobrev was thinking when she ditched her shoulder-length lob for her new, seemingly shorter cut for the awards show on Monday night... or was it? It looks like Dobrev's new asymmetrical hair, created by celebrity hairstylist Chris McMillan, is actually an updo held together by pins to create the illusion of a shorter style, but with her longer hair still intact. In relationships, faking commitment is no good. But faking a haircut without the commitment? Now that's something I can get down with.
While the 'do looks like an asymmetrical pixie with a deep side part from the front, McMillan sneakily revealed in an Instagram post that, instead of cutting several inches of the actress' hair, he strategically pinned the longer parts of the hair in place to create the fake-out, "#hair #assymetrical #undercut #butnot 😉" McMillan captioned the post. To the untrained eye, it could appear that Dobrev's new uneven style is a major change from the longer lob we've seen her sporting in recent months. But true beauty junkies didn't need to read McMillan's cheeky hashtags to figure out that this style was Dobrev's attempt to switch it up on the red carpet and try out a new look.
So, if you're someone who is looking to test out a shorter style before you take the plunge and chop your locks, you probably want to make your way to the McMillan's Instagram to save that image for some major mane inspiration.
After creating the faux undercut with what looks like a tight French twist, the stylist then created a deep part and left a choppy section of hair to lay across the face, with the longest layer just skimming Dobrev's cheekbone. The face-framing layers that helped to create this asymmetrical look for the CFDA Awards are a result of a textured cut that McMillan gave Dobrev back in February — a style that is clearly still going strong.
While McMillan has given us plenty of life with his lewks for Dobrev, her locks aren't the only ones he is responsible for. McMillan is the man behind many other big-name celebrity manes, like Katy Perry's, Hailey Baldwin's, Jennifer Anniston's (and the iconic haircut known as "The Rachel"), and most recently, he slayed us with Emma Robert's new short cut that she debuted just last week.
As someone who gets bored with her long, waist-grazing hair but is afraid of commitment, I sure am excited that McMillan created this style for Dobrev, because it's made me realize you don't need to get a drastic haircut in order to try out a new look. What's more? Even if your hair is longer than Dobrev's (same), you can still recreate this look by pinning the longer hair in the back into an updo — just like the actress'. Then, after creating a deep part, tuck and pin the ends of the sectioned hair underneath to create yet another illusion of a shorter 'do.
For the CFDA Awards, the star's tricky tresses were paired with a navy blue asymmetrical Zac Posen gown to match, creating a structured look literally from head to toe.
Dimitrios Kambouris/Getty Images Entertainment/Getty Images
Dimitrios Kambouris/Getty Images Entertainment/Getty Images
Is Dobrev's CFDA Awards look foreshadowing the next cut we're going to see her rock? Well, that's to be determined, but either way, at least Chris McMillan introduced a fun, fresh style for us to recreate the next time we want to try out a new look, but are feeling afraid of the scissors.