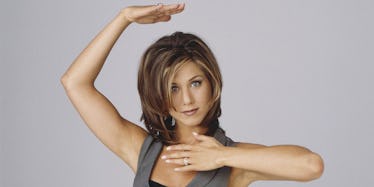 Jennifer Aniston Says She's Not A Fan Of Her Iconic 'Friends' Hairstyle
Warner Bros. Television
Jennifer Aniston is arguably most famous for her role as Rachel on "Friends."
But, you can't mention her character without talking about the iconic haircut known as the "Rachel."
Even though many have tried to copy Aniston's hairstyle, the actress herself revealed she was not into the 'do.
The star told Glamour,
I was not a fan of the 'Rachel.' That was kind of cringe-y for me. Looking back... I couldn't do it on my own. I needed [my hairstylist] Chris [McMillan] attached to my hip. Left to my own devices, I am not skilled with a hairbrush and blow-dryer.
In hindsight, it's easy to look back and denounce a style choice from 20 odd years ago.
But without that famous haircut, would Aniston be the star she is today?
It's hard to say, but I think Jen should be thankful an entire hairstyle is named after a character of hers.
Citations: Why Jennifer Aniston Never Liked the Rachel Cut (Glamour)