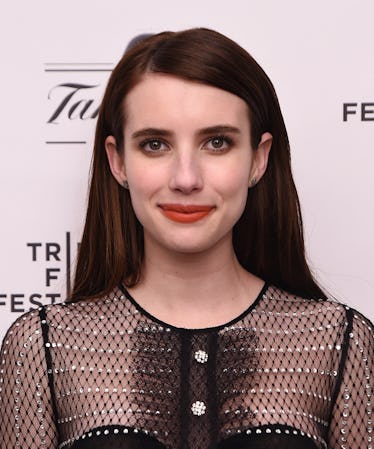 Emma Roberts' New Haircut Is So Short & Sweet, You'll Want To Chop Off Your Locks, Too
Ilya S. Savenok/Getty Images Entertainment/Getty Images
Well, we've reached the time of year where I'm all too tempted to say, "F*ck it," and cut off all my hair, only to lament over not having long hair for the next year. This year, it seems like celeb after celeb after celeb is feeling the same urge to chop off all their locks. Most recently, one American Horror Story star is the next one up to make the cut (ha). Emma Roberts' new haircut is even shorter than her last, and it's seriously making me want to go shorter, too.
As you might already know, Emma Roberts isn't a stranger to short hair or a range of different hair colors. However, as of late, her blonde lob has been growing out a bit — but not anymore. Recently, celebrity stylist Chris McMillan gave Roberts a fresh cut, ultimately going even shorter than some of the already pretty short bobs plenty of celebs have been opting for. For Roberts, McMillan went with a chin-length bob, with the ends of Roberts' hair juuuuuuust grazing her jawline. He even called the cut a "hairline bob," likely because the ends seem to hit near the bottom of Roberts' hairline in the back.
According to W Magazine, hair colorist Bre Trupiano freshened up Roberts' already blonde locks, bringing her previously brown roots back to blonde and keeping the tone light and bright.
In another post, McMillan shared another photo of Roberts' new 'do, along with some insight as to how he styled her hairline bob. He captioned the post:
#thenewshort #haircut #hairlinebob combed into shape with Sebastian mousse and put Emma under a dryer ( hood dryer , like you would with a roller set. 15 min ✅ DONE. Run hands through. Easy on the hair, and FAST!!!! #simple#chic
How is it that styling Roberts' new bob perfectly took less than 20 minutes for McMillan, but I know if I tried to do something like that, it would take two hours and come out looking like a toddler did it (ignoring the fact that, IDK, McMillan is a professional hairstylist, and I have the dexterity of a toddler)? Interesting.
Anyway, as I briefly mentioned before, shorter bob hairstyles have seen a huge spike in popularity recently. People like Selena Gomez, Vanessa Hudgens, Saiorse Ronan, Jenna Dewan, and more have traded in their long locks for short styles, seemingly all following the same general trend: the French girl haircut. Brought to the forefront by model Taylor LaShae and LA-based hairstylist Sal Salcedo (@salsalhair on Instagram), the French girl haircut embraces the jaw-grazing crop with short bangs lining the eyebrows. While Roberts' new cut doesn't feature the bangs associated with the French-inspired style, her bob length is right on trend.
Salcedo recently spoke to Refinery29 about what to ask your hairstylist for at your salon, should you want to recreate this cut. "The fringe should be above the eyebrows and get slightly longer at the temples so that it blends right into the length," he said. He continued that this look is for people who are more on the adventurous side with their hair. "It's daring, it's a strong statement, and it shows that the person wearing it is confident and that that their idea of femininity is not necessarily having long hair."
While I know I'm one to immediately regret cutting my hair short the minute after I do it, all this talk of daring, care-free bobs is pushing me to make a haircut appointment stat. TBD on whether I'll follow through on a hairline bob like Roberts', or if I'll chicken out at the last minute and go for a healthy trim like I always do.