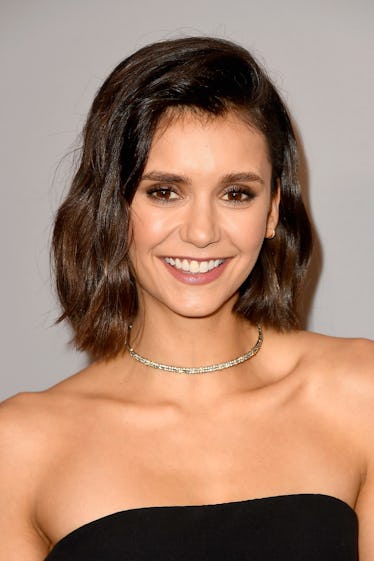 Nina Dobrev's New Haircut Is Perfect For Commitment Phobes Who Still Want To Slay
Frazer Harrison/Getty Images Entertainment/Getty Images
When I think of a haircut, my mind always goes towards super short 'dos. I'm not really sure why though — I don't even think I could pull off short hair. I have waist-length waves and I never get drastic haircuts. However, thanks to photos of Nina Dobrev's haircut, I'm realizing that you don't have to commit to a dramatic change to get a massive payoff. Even me, a girl who gets severly bored with her long hair (but also is too afraid to cut it), could reap the benefits of tons of layers like Dobrev.
The 29-year-old actress turned to celebrity stylist Chris McMillan for a refresh on her already short 'do. Before her new layers, Dobrev was rocking a blunt bob that hit around chin-length. Though she's had even shorter hair before (I love a girl who isn't afraid to go for it), she opted to keep most of her length this time around. So, McMillan got to work giving her a haircut, without making it shorter. If you haven't had layers before, allow me to introduce you to the magic of varying hair lengths.
Layers not only give you the illusion of shorter hair, which is great for when you want a trendy new cut, but it doesn't require as big of a commitment, because for the most part, you get to keep most of your length. It also is the easiest way to create bounciness, texture and tons of volume, which is a life-saver for girls with thin hair. And, I also just learned from Chris McMillan's Instagram post that layers are perfect for that awkward growing-out phase. He captions on Nina Dobrev's new haircut photo, "#haircut#layers#workout#reebok#love#naturalhair best way to grow out your bob. Face framing layers and add a few long layers #texture#sexy. #fresh. #modern."
Nina Dobrev's new haircut is not only bouncier, shaggier and in my opinion, so much cuter (although I didn't think that was even possible), it looks fuller and so much healthier. Though I could never go quite as short, I'm super inspired by her new look. Now that I'm in dire need of a trim, I'm totally convinced that I need layers — lots and lots of layers. Even though I have much longer hair than Nina, the results will be similar. I can definitely benefit from fuller looking hair and I'd love to get those same wispy ends throughout. Now that I think about it, I might even get those face-framing bangs McMillan is talking about.
In case you're also convinced to get bangs, make sure to ask your stylist for "curtain bangs." These are those French-girl parted-in-the-center bangs that feel too cool for school. They effortlessly fall to the sides, giving that barely-there fringe that makes you look so effortless and chic. Trust me, ask them for "curtain bangs" and you'll get exactly what you want. Your stylist will know exactly what you mean.
Clearly, I'm not the only one who is obsessed with Dobrev's shaggy new cut and French-girl bangs. Twitter and Instagram are blowing up over her new chop. Fans are tweeting statements like, "omg how stunning she is her hair and style amazing," and "queen, I'm in love." And her Instagram comments are flooded with everything from, "this look is amazing Nina" to "so gorgeous" and "really like the hair." My thoughts exactly.
Another thing I'm really loving about Dobrev's brand-new cut is that she opted for natural color. Because there is so much dimension in the layers, her hair is catching the light at different lengths and gives the illusion of subtle highlights. As someone with virgin hair (aside from the length, I also get super bored with the color), I appreciate any hack to fake variations in color. Basically, when you have a really good stylist (Nina obviously has one of the best) who gives you a really good cut, you don't have to go too crazy with the color. Sometimes less is more.
But as any beauty junkie knows, when you show off your new haircut, it's just as important to wear a cute outfit to round out your look.
Dobrev stepped out on Saturday to attend Create & Cultivate in Los Angeles, for a day of panel discussions, including one with Kim Kardashian. The event is one you bring your fashion A-game for, however, it's a super long day of standing, networking, waiting and exploring, so it's important that you look cute but are also comfortable. I love Dobrev's business-on-top-comfy-on-bottom look.
She paired black leggings and sneakers with a black-and-white striped top and navy blazer that hits right below the hips (because sometimes leggings can show off a little too much). She polished off her look with a black structured leather bag and silver drop earrings.
But of course, the haircut took center stage — as it should.