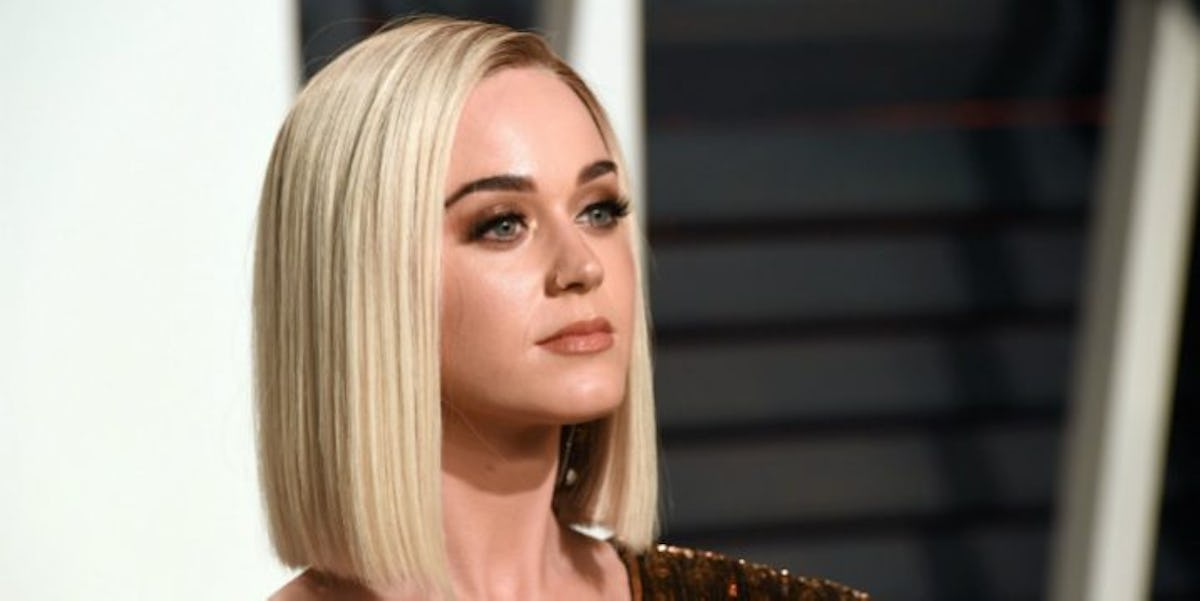 Katy Perry Looks Unrecognizable With Her New Bleach Blonde Pixie Cut
REX/Shutterstock
Katy Perry certainly has come a long way since her "I Kissed A Girl" days. While she drew us in with lesbian overtones, she kept us around for her antics, outfits and ever evolving style.
Damn you, Perry, you got us good.
Personally, when I think of the pop singer, my thought usually involves a woman with black hair with whipped cream boobs.
But she hasn't looked this way since "California Girls," and guess what? That came out in 2010, so look alive.
Since splitting with Orlando Bloom, her look has taken on a whole new "fuck what ya heard" inspiration.
Just last month, Perry showed off a shorter, bleached blonde cut featuring shaved sides that many people thought looked like Scarlett Johansson's.
But now, Perry has gotten even less hairy. (See what I did there? A little rhyme.)
She's trimmed her locks even shorter and some people are saying it reminds them of Justin Bieber.
She seems to think it looks more like Bruce Willis in "Fifth Element" though.
TBH, I just always assume Bruce Willis has always been bald, so I was pretty confused. But I can see the "Chained to the Rhythm" singer has a point.
*ARTICLE IS INTERRUPTED BY THE SOUND OF AN ELECTRIC RAZOR'S BUZZ AND "LAST FRIDAY NIGHT" AS I DESPERATELY TRY TO COP THIS LOOK*
Sorry, what's up?
Personally, I think Perry kind of looks like another music icon, though.
Celebrity stylist Chris McMillan is responsible for the look. In a Snapchat video, Perry said,
When your eyelashes are longer than your hair, you know you've just gotten cut from Chris McMillan.
So, whether you love her new haircut or hate it, it's always nice to remember Katy Perry probably doesn't care what you think and she would support you in any hair-related decision you chose to make.
Citations: KATY PERRY CHANNELS JUSTIN BIEBER WITH HER NEW HAIRCUT (MTV)