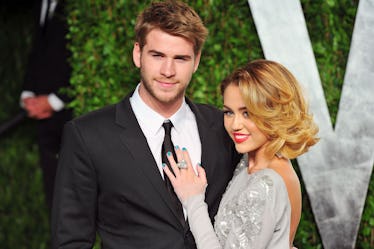 6 Signs Your Relationship Is Like Miley Cyrus & Liam Hemsworth's
Alberto E. Rodriguez/Getty Images Entertainment/Getty Images
It may have taken a whole decade's worth of on-again, off-again dating for Miley Cyrus and Liam Hemsworth to make a lifelong commitment together, but it's safe to say that their happy ending was well worth the wait. Because truth be told, ever since they met the set of The Last Song and turned their on-screen fairytale into a real-life romance, we've been crossing our fingers that these two would end up together. And they're a surprisingly relatable celeb couple, too. Which means that you may find that Miley Cyrus and Liam Hemsworth's relationship is just like yours — that is, if you're lucky.
OK, so not everything about their relationship is relatable. After all, they did meet while starring in a Nicholas Sparks movie together (*sigh*), they made their debut as a couple on the red carpet, and Hemsworth proposed with a massive Neil Lane diamond ring. But that said, there's something about the makeups, breakups, and many milestones in their relationship that feel so authentic and familiar. Perhaps it's the fact that after all the ups and downs they've been through (and there have been many), they still found their way back together. Because as many of us know, true love isn't always easy — sometimes, it takes a lot of effort and some serious self-growth to make it work.
Let's be real, here — Cyrus and Hemsworth give us new #relationshipgoals to aspire to. But if any of the following signs sound familiar, you may already have a love like theirs.