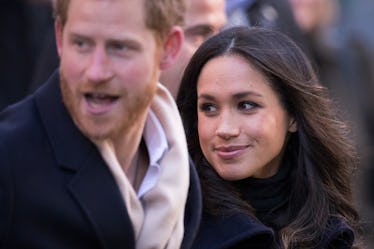 Meghan Markle Told The Story Of Her First Kiss & It's Honestly So Relatable
Christopher Furlong/Getty Images Entertainment/Getty Images
Meghan Markle is a pretty extraordinary lady. She somehow successfully transitioned from American TV actress to British royalty, and we're all just here for the ride. However, Meghan Markle's first kiss story is so relatable, it makes me feel like maybe I have a chance at marrying a real-life prince, too.
During an old interview with Larry King, Markle sat down with her Suits co-star Patrick J. Adams to talk about their characters' relationship and her journey into acting. Near the end of the interview, King had both actors take a walk down memory lane and asked Markle and Adams if they could recall their first kisses. Surprisingly, both actors most certainly did.
For Markle, her first kiss was at a summer camp (like so many of them are).
She explained, "Joshua Silverstein. I was 13 ... it was like a summer camp, and I kissed him." She added, "I don't know what happened to Joshua."
I do, Meghan. Right now, Joshua is thinking about how summer camp was the best days of his life and he didn't even know it.
Now, Markle only has eyes for Prince Harry. The two became engaged in November 2017, and plans are in full swing for a May wedding. If I can be honest, Markle's relationship with Harry is a way better love story than the one she had with Joshua.
After dating for roughly a year, Harry decided to just go for it. The happy couple shared the proposal story with BBC, and the way they described it made it sound seriously intimate.
The story went like this:
Prince Harry: [We were] Roasting a chicken... trying to roast a chicken.
Meghan Markle: Trying to roast a chicken and it just — just an amazing surprise. It was so sweet and natural and very romantic. He got on one knee.
Prince Harry: Of course.
Interview: Was it an instant yes from you? [Meghan]
Meghan Markle: Yes, as a matter of fact, I barely let you [Harry] finish proposing. I said, 'Can I say yes now?'
Prince Harry: She didn't even let me finish. She said 'Can I say yes? Can I say yes?', and then there were hugs and I had the ring in my finger and I was like, 'Can I give you the ring?' She goes, 'Oh yes, the ring.' So no, it was a really nice moment, just the two of us. And I think I managed to catch her by surprise as well.
These two seem to be truly meant for each other. In her cover story with Vanity Fair, Markle described her relationship with Harry using gorgeous, romantic language. She said,
We're two people who are really happy and in love. We were very quietly dating for about six months before it became news, and I was working during that whole time, and the only thing that changed was people's perception. Nothing about me changed. I'm still the same person that I am, and I've never defined myself by my relationship.
She added,
We're a couple. We're in love. I'm sure there will be a time when we will have to come forward and present ourselves and have stories to tell, but I hope what people will understand is that this is our time. This is for us. It's part of what makes it so special, that it's just ours. But we're happy. Personally, I love a great love story.
ME TOO, MEG!
The wedding is scheduled for Saturday, May 19, and will take place at St. George's Chapel at Windsor Castle. There is no confirmation on whether or not Joshua will be in attendance.
Check out the entire Gen Why series and other videos on Facebook and the Bustle app across Apple TV, Roku, and Amazon Fire TV.