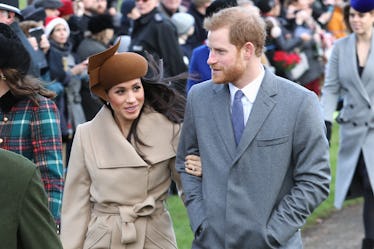 There's A Surprising Result To The Royal Wedding You Probably Didn't Think About
Chris Jackson/Getty Images Entertainment/Getty Images
Guys, I finally figured out why the U.K. loves royal weddings so much. They make them so much money!! Seriously, according to Brand Finance, a business valuation consultancy, Prince Harry and Meghan Markle's wedding is estimated to boost the U.K. economy by 500 million pounds, which is $680 million. Yes, you read that right. Prince Harry and Meghan Markle's wedding is going to bring the U.K. economy over half a billion dollars.
Brand Finance told Reuters the majority of those funds will be brought in just by the sheer number of tourists who will want to be in the U.K. around May 19 when the wedding will occur. Sure, they won't be invited to the wedding or anything, but they definitely will try and snag a glimpse of it all by being at Windsor Castle day-of! In case you forgot, thousands of people show up to witness the little "parade" (is it a parade...?) that goes down on the way to the royal wedding. You remember when Prince William and Kate Middleton got married, right? There were literally thousands of people lining the streets to watch as the royal family and Kate Middleton's family drove through the streets of London on their way to Westminster Abbey. It's a big to-do, and I'm willing to bet lots of people will fly from far and wide to be there to witness Prince Harry and Meghan Markle tie the knot.
I mean, how can you not love this couple?!
I can't even guarantee that I won't blow all my money on plane tickets to witness at least part of this wedding. David Haigh, Brand Finace's chief executive, told Reuters, "We think approximately 200 million pounds will come from tourism, travel, hotels." According to Reuters, 350,000 more people visited the U.K. when Prince William and Kate Middleton got married in April 2011 than they did in April 2010. So yeah, the U.K. can probably expect to see a sh*t ton of tourists this coming May.
Haigh added that they predict $202 million is going to be spent on "parties and celebrating." Another $68 million will be brought in by people buying T-shirts, hats, and other various merchandise. And let's not forget about all of the free advertising the wedding is getting thanks to, well, websites like us. (Oops?) Brand Finance predicts the worldwide reporting of the wedding will equate to about 100 million pounds, which is $135 million. The manager of the Harte and Garter hotel (which is located right by Windsor Castle), Andrew Lee, told Reuters, "It's going to be a massive boost for the economy, it's going to be great to see so many people here for the wedding and actually to host the wedding itself." So yeah, safe to say this wedding is KIND OF a big deal for the U.K.
The statement read,
His Royal Highness The Prince of Wales is delighted to announce the engagement of Prince Harry to Ms. Meghan Markle. The wedding will take place in Spring 2018. Further details about the wedding day will be announced in due course. His Royal Highness and Ms. Markle became engaged in London earlier this month. Prince Harry has informed Her Majesty The Queen and other close members of his family. Prince Harry has also sought and received the blessing of Ms. Markle's parents. The couple will live in Nottingham Cottage at Kensington Palace.
Prince Harry and Meghan Markle will be tying the knot on Saturday, May 19, at St. George's Chapel at Windsor Castle. As for the wedding plans we know of so far, Meghan Markle reportedly asked her mother to walk her down the aisle, and she has also chosen to have a Maid of Honor instead of the traditional "chief bridesmaid" most royal weddings have. This is going to be a wedding for the ages, fam.