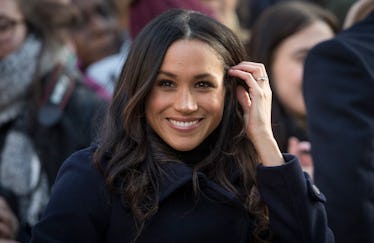 These Photos Of Meghan Markle At Her High School Prom Will Make You Do A Double Take
Christopher Furlong/Getty Images Entertainment/Getty Images
I always love seeing old photos of celebrities before they became household names. It's comforting to see beautiful people looking just as awkward as everyone else in the world when they were teenagers, braces and all. So when photos of Meghan Markle at her high school prom surfaced, I was getting ready to see the almost-royal beauty with just a tad of acne, or, at the very least, a brightly colored scrunchie. But LOL, because looking awkward is obviously not a thing for the newly-engaged Markle.
According to Daily Mail, Markle attended the private Catholic all-girls school Immaculate Heart High in Los Angeles, California, and was joined by the all-boys school St. Francis for proms. And the photos that show off Markle's high school years do not disappoint. The photos depict a 17-year-old Markle at her prom looking effortlessly gorgeous, being crowned school homecoming queen in 1998. Is it possible that she looks like she hasn't aged at all? NBD, considering that was literally decades ago.
Not only are there photos of her in her baby blue prom gown, holding a bouquet of flowers, and wearing a tiara (um, foreshadowing much?!), but there's a yearbook photo portrait as well, and it is actually blowing my damn mind:
I'm sorry, but even in a Catholic uniform, a fresh-faced Meghan Markle looks pretty freaking gorgeous. And don't even get me started on her homecoming queen photo. SHE IS LITERALLY FIT TO BE A PRINCESS.
Couldn't be any more perfect, considering her new fiancè.
So now that we've all just settled down after seeing some vintage photos from the woman who's about to become Prince Harry's wife, I have something else to show you.
Yes, girl! More photos! Apparently, Markle attended another one of her high school's proms in 1999 at the Immaculate Heart High School, and she is the epitome of a '90's girl in the best way possible:
Sigh. If only she had worn butterfly clips, my life would actually be complete. I don't know what we did to deserve all of these images of Markle, but oh man, how blessed are we?
I thought that we were lucky enough when we got to see Meghan Markle as a stunning bride in her first wedding, marrying movie producer Trevor Engelson back in 2011. And, while the couple filed for divorce in 2013, citing "irreconcilable differences," the photos of Markle looking beautiful as ever remained:
Oh, you didn't know that Markle had a casual, island-style wedding equipped with beach wheel-barrow races and plenty of fun in the sun? Even more proof that she's undoubtedly the coolest American girl to enter the royal family.
Honestly, all of these amazing photos of Markle shouldn't even surprise us. Remember that time when a photo surfaced of Markle during her college years at Northwestern University, showing that she was a member of Kappa Kappa Gamma sorority, tweeted by the Chicago Sun-Times?
Or how about the incredible photo of Markle hanging around Buckingham Palace at 15 years old – you know, that little old place where the family she's now marrying into currently resides:
OK, fate, we get it. Meghan Markle and Prince Harry are obviously meant to be. You don't have to rub it in our faces.
If all of this isn't proof that these two are actually perfect together, then maybe I should just leave you with an interview where the couple explains how Prince Harry proposed to Meghan, because it involves (trying) to roast a chicken, and honestly, how can they be so relatable and yet also so royal?
Pro-tip for anyone who's in the market for a royal prince: Go find your old high school yearbook photos, then scan and share them on social media for the world to see. Clearly, it's working out pretttty well for Meghan, so let's take a page out of her book, shall we?