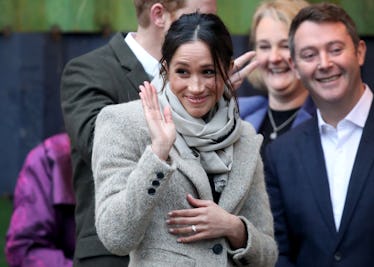 Meghan Markle Gave Queen Elizabeth The Funniest Christmas Gift & She Totally Loved It
Chris Jackson/Getty Images Entertainment/Getty Images
Spending your first Christmas with your significant other's family can be tough. Now, imagine your SO's family is literally the Queen of England and you can just about picture how much pressure Meghan Markle must've felt this past December. Prince Harry broke tradition by asking permission for Markle to spend Christmas day with the royal family, seeing as only royal spouses (not fiancées) have been invited to the celebrations in the past. The couple has broken tradition in some of their wedding plans as well, but Meghan Markle's Christmas gift for Queen Elizabeth reportedly stuck with the family's tradition of giving fun, lighthearted gifts to one another.
The Daily Star Online reports Markle gave Queen Elizabeth a singing toy hamster for Christmas. Yup, a toy hamster that sings. It's apparently the royal family's tradition to gift each other with fun little knickknacks on Christmas Eve, and Markle was right on the money with her gift. According to The Daily Mail, Queen Elizabeth reportedly started laughing the second she opened it and said, "They can keep my dogs company!" The queen's pups reportedly tried to grab the toy immediately, and you know you're in when the family's dogs love you.
Markle may not have spent a lot of money on this particular gift for the queen, but her wedding will sure as hell be making a lot of money for the U.K.! According to Brand Finance, a business valuation consultancy, Prince Harry and Meghan Markle's wedding could bring in as much as 500 million pounds to the U.K. economy. That's $680 million. Crazy, right?
Well, when you think about how many people travel to the U.K. to catch a glimpse of royal weddings, it makes sense. Between tourism, merchandise, and parties thrown, Brand Finance told Reuters it predicts the U.K. economy is going to get a huge boost thanks to Harry and Meghan's nuptials.
Markle and Prince Harry have decided to break tradition on a lot of fronts for this wedding, and not just English traditions. Nope, Markle has reportedly asked her mother to walk her down the aisle instead of her father, so that's one American and English tradition she will be foregoing. One American tradition she has decided to implement into her royal wedding is having a maid of honor. Typical royal weddings have a "chief bridesmaid," which is basically the same thing as a maid of honor, except with a different name. Still, Markle is choosing to call her so far unannounced pick her maid of honor.
Markle's father, Thomas Markle, finally publicly responded to his daughter's engagement news, which Elle reported on Jan. 8. Markle said, "I think it's wonderful ... I'm very delighted ... I think they're [a] very good match. I'm very happy for them, Meghan and Harry. I love my daughter very much — Harry's a gentleman."
Prince Harry told BBC Radio 4 Today in a recent interview that he and Markle had a wonderful time spending Christmas with his family. He told the outlet, "She really enjoyed it. The family loved having her there." He continued,
There's always that family part of Christmas [where] there's always that work element there as well, and I think together we had an amazing time. We had great fun staying with my brother and sister-in-law and running round with the kids. Christmas was fantastic ... She's done an absolutely amazing job, she's getting in there and it's the family that I suppose she's never had.
Although Markle's sister wasn't the biggest fan of that "family she never had" comment, the Markles seem to be very pleased for Meghan and Harry.